12
←

Dec 2009

→
S
M
T
W
T
F
S
1
2
4
5
6
7
9
10
11
12
14
15
17
18
19
20
21
24
26
27
28
30
31
I'm always interested in seeing how other microbusiness owners making a living under their own volition. One of my early role models was Herrick Kimball, creator of the Whizbang Chicken Plucker (among other farm-related inventions.)

To me, Herrick's microbusiness is a sure success because I've seen his product in use in multiple households. It's cool, it works, and it even has a perfect name. I like his idea of selling do-it-yourself guides in addition to physical products, too.

Herrick uses the same model we do to come up with ideas --- rather than reinventing the wheel, he bases his inventions on old timey tools or on modern gadgets in use by big businesses but unknown to the small farmer. Clearly, you don't have to come up with your own idea to create a niche product; you just need to know a good product when you see one.


Perhaps Herrick's strongest microbusiness asset is his love of blogging. His posts drives readers to his Whizbang business and make his products turn up higher in web searches. Everybody who loves to blog should have a microbusiness since every blog post gives you more power in the cyber-world.

Despite all of the things that Herrick did right, as our own microbusiness grew, I started critiquing his microbusiness. I subscribed to his blog and was surprised to discover that he still works full time in a factory job that he hates. Rule 1 of our microbusiness path to financial independence is to make enough money so that you can stop doing anything you hate to do. By those standards, Herrick's microbusiness is not a success yet. (I suspect that Herrick makes just as much money from his microbusiness as we do from ours, but he has several kids and probably isn't as tied to frugality.)

I also wonder whether Herrick might not make more money if he started selling ebooks rather than sinking his capital into physical books. Rule 2 of Microbusiness Independence is to keep your startup capital as low as possible so that you can quit your job quickly and really start living. That said, I find very little else to complain about in Herrick's business.

I hope you're inspired to try your own hand at starting a microbusiness. Check out our $4 ebook about starting a business for lots of tips that will help you quit your job twice as fast.

If you've read our ebook about starting a small business and quitting your job, you'll remember that one of my top pieces of advice is to keep your costs low. We're just starting to apply the lessons we learned with our last microbusiness to our new ebook and are discovering that ebooks are even easier than physical products to market on the cheap, especially if you leverage Google Books.

What is Google Books? This facet of the big search engine company allows publishers and authors to send their books to Google so that the entire book can be searchable over the internet. You can set options so that visitors can view anywhere from 20% to 100% of your book for free online, including or excluding pictures. I've often been searching for a bit of info, ended up in the middle of a book listed on Google Books, and become so enthralled by the book that I headed straight to the library to read the 80% that isn't freely listed online. I assume that most folks aren't quite as cheap as I am, and instead plunk down some cash to buy books like this, especially since Google Books will link directly to the page on your website where visitors can buy your book.


Google Books amounts to free advertising, and the website is set up to make it easy for ebook publishers to list their writings. If you don't already have a Google account, you'll need to sign up for one. Then add in a bit of contact information and upload a pdf file of your book (or mail in a paper copy, but this will take much, much longer.) Since you probably won't have an ISBN number, you'll have to skip over "1. Tell us about your books" and go straight to "2. Send us your books." If the file you're uploading contains the cover and the content of the book all together, rename the file to match the title of your book and upload it as is. Otherwise, you'll need to read Google's simple instructions about naming the cover files and content files.

Then be patient and wait for your book to show up. This is the stage I'm at --- I'll be sure to update you on how the next steps go once I get to them.

Putting your products on sale seems like an anti-intuitive method to make more money, but it can actually work. Our chicken waterers tend to hit a sluggish period as the weather cools, at which point we stop advertising and settle in for a restful winter. This year, we decided to see if we could boost our winter profit with a 10% off sale combined with an email to our past customers.

The sale definitely helped increase our conversion rate. The week before the sale began, we had a 2% conversion rate (meaning that 2% of the people who dropped by our website bought a waterer.) The first week of our sale, our conversion rate jumped to 3% --- a 50% increase! Of course, we made a little less money per waterer sold during the sale period, but even with that factored in our gross sales increased by 35%.

Check out our small business ebook for other hints on free and cheap methods of increasing your sales.

When we submitted Microbusiness Independence to Google Books, I was ready to wait a month or two to see my information live. Imagine my surprise to check back a week later and see our book in place!

At the moment, our book's title is misspelled, but I have high hopes that will be fixed with a little patience. Otherwise, I have to say that the uploading process was astonishingly easy and quick.

Of course, I'll have to wait and see whether listing our book on Google sends us more customers. As usual, I'll keep you informed!

Meanwhile, feel free to check out our ebook for information about creating your own job.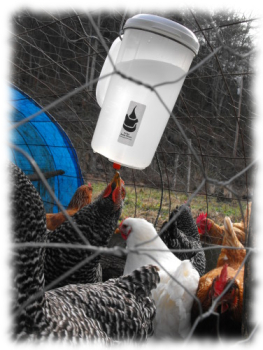 A couple of weeks ago, I posted some pointers for building your business with an email list. At the same time, I sent out an email to all of our own past customers, telling them about a holiday sale. In the business, this type of list would be known as a warm list --- clearly, all of the folks on it had bought our chicken waterers at one time, but some of them hadn't visited our website in a full year.

What were the results? 0.3% of the people asked to be removed from our list, 1% of the people had questions about use of our product, and 1.5% of the people came to our website to make another purchase. These numbers are pretty normal for email lists, where the return rate (percentage of people who visit your site afterwards and make a purchase) is usually between 0.3% and 1%.

Although those return rates sound pretty low, keep in mind that sending out an email to your past customers costs you nothing except a bit of time. Check out our ebook for more tips about advertising your business for free.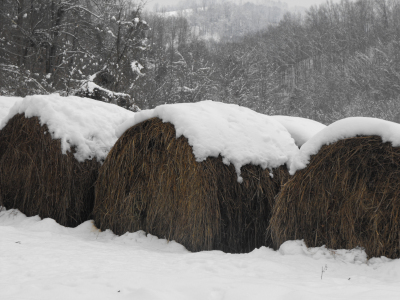 Mark and I are seriously snowed in --- no phone, no power, and the road too icy to travel. I've mailed this blog entry to my brother on a CD, which is my best option to get on the internet at the moment.

We have high hopes that we'll at least be able to make it to town (and the internet) by the end of the week. Meanwhile, if you've sent me an email or had trouble downloading your ebook, I apologize profusely for the delay. Have hope --- you'll be first on my agenda when we reach the outside world!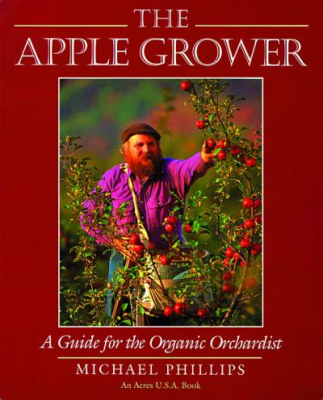 The Apple Grower by Michael Phillips documents two men's journey toward making a living on an organic apple orchard. At the time of the book's writing, the author and his partner had been running their orchard for five years and had made their way to a lofty hourly wage of $3.50.

Okay, so their endeavor is clearly a labor of love funded in part by their wives' full time jobs. In fact, the book read like a cautionary tale, a reminder that even though we love growing things, agriculture is far from the best way to make a buck.

Still, the fact that their small orchard is even breaking even is quite a coup in this day and age. I ascribe their moderate success to:

Value-added products.

A large proportion of apples grown organically are never going to look pretty enough to be sold to the general public as is. If turned into fresh and hard cider, jelly, apple butter, and vinegar, though, those low value (but tasty!) fruits turn into top dollar products.

Attracting tourists.

Their operation is built around an old timey, water powered cider mill. Tourists show up just to see the structure, then end up buying apples and cider.

Mail order.

The most beautiful apples and the highest value products are sold through a mail order catalog. The book doesn't mention a website, but that would be my inclination as a way to save on printing costs and attract an even wider audience. In either case, the idea is valid --- sell high value products to a larger customer base and you can charge more realistic prices.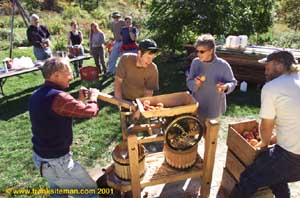 In my opinion, the orchard has two major problems preventing it from becoming a profitable microbusiness. First, organic apples aren't really a niche product --- you can even buy some of the most boring varieties in the grocery store. Second, apples are heavy so shipping costs probably deter many buyers.

Still, if you're dreaming of an agricultural microbusiness, The Apple Grower is a good book to pick up. If you'd like more tips on starting a profitable microbusiness of any sort, check out our ebook about starting your own business and quitting your job.

One great thing about ebooks is that you can sell them in a lot of different ways. We currently sell our microbusiness ebook on our own website and have listed it on Google books for more free exposure. Time to see whether it's worth our while to sell our ebook to an even wider audience through Amazon's Kindle Store.

Uploading our ebook to Google was quite painless, but I can't same the same for uploading the same ebook to Amazon. At the moment, Amazon recommends that you upload your ebook in MS Word, HTML, or PRC format. When I converted my OpenOffice file to a Word file then uploaded it, the result was wonky. Next, I decided to give PDF a shot since Amazon allows ebooks to be uploaded in PDF format (though they warn of low conversion quality.) My conclusion? Amazon was right --- their conversion of PDF files is even worse.

While fighting with file formats, I decided to poke around and see what the finances of listing an ebook on Amazon look like. Google makes their money by putting a bit of advertising on the side of your book page, but Amazon's business model involves getting money directly from the sale of your book. And Amazon's commission is quite steep --- they take 65% of the retail price as their own profit before giving you a 35% royalty.

For the moment, I've decided to give up on listing our ebook on Amazon. It looks like I'd need to manually reformat an html file to make our book look pretty again, which just sounds like too much work if they're taking such a big commission. I'd be curious to hear if other folks have decided that selling ebooks through Amazon is worth their while.

Lots of people try to trick the system using search engine optimization, but it's nearly as easy to get to the top of the search engines organically. My advice is to find out which part of the internet you love and make a presence for yourself. If you're like us and love to blog, then make sure you post a blog entry every day. Or maybe you'd rather hang out on Facebook, tweet your way to significance, or shoot the bull on forums. As long as your online presence is visibly linked to your business website, every time you make a post or a tweet, you're making your business site more important and netting more customers.

We attribute quite a bit of our microbusiness success to our incessant blogging. Our homestead blog gave our business a jumpstart --- rather than starting as an insignificant website tucked away in a dark corner of the internet, our business was attached to a well-read and loquacious blog. Although only a limited number of people read the blog itself, by adding a little note at the end of each of our personal blog entries with a link to our business website, we quickly pushed our business website to the top of the search engine rankings. The same effect is easy to achieve by, for example, putting a link to your website in your forum signature and posting up a storm on a well-read forum.

So find a part of the internet you enjoy and get out there! Think of search engine optimization as running for political office. No one's going to vote for you if you don't put in your time kissing babies.