Chicken Ebooks
Start with chicken-keeping basics, or learn to integrate chickens into a permaculture homestead.

Are you thinking of jumping on the backyard chickens bandwagon? Chickens are easy, fun, and tasty, but their care can seem a bit daunting to the uninitiated. Our chicken ebooks (99 cents on Amazon) teach you everything you need to know to keep your chickens happy, then to put them in your belly.

The raw beginner will enjoy The Working Chicken, which presents just the basics in about 27 paperback-sized pages. This ebook now includes a bonus children's picture book as well to inspire the next generation of chicken lovers!

The companion ebook, Eating the Working Chicken, covers butchering your backyard birds. Both of my beginner books come free, along with a companion video, with every order of our POOP-free chicken waterer, or you can download them from Amazon for 99 cents.


More advanced readers told me that they are itching to find out ways to make backyard chickens self-sufficient, cheaper, less smelly, and more fun. So I've starting a more advanced series of ebooks --- The Permaculture Chicken saga --- to delve deeper into integrating chickens into your homestead.

Permaculture Chicken: Incubation Handbook tells you everything you need to know to hatch healthy, homegrown chicks while Permaculture Chicken: Pasture Basics helps you develop the perfect pasture for your flock.

Later ebooks in the series will cover forest pastures, chicken moats, and more. Subscribe to the RSS feed below (or email anna@kitenet.net and ask to be added to my email list) to find out when new chicken ebooks launch.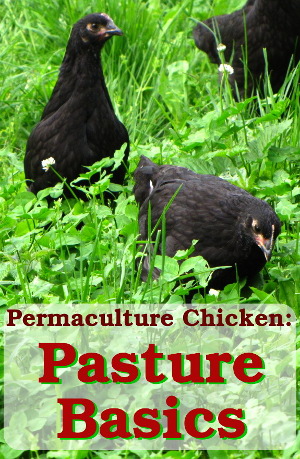 Several of you have emailed to ask about the next installment in the Permaculture Chicken series. The trouble is that pasturing is a big topic and I got bogged down in the sheer size of the undertaking. At the same time, Amazon changed their policies so I could only cram about 60 pictures into an ebook if I wanted to keep the price down to 99 cents.

Rather than overwhelming myself with writing a gargantuan tome all at once (and having to boost the price), I decided to break pasturing up into two or three segments. The first installment, as the name suggests, is the basics --- why grazing chickens is different from grazing ruminants, how pasture plants grow in rotational pastures, and how to keep traditional pastures lush despite chicken scratching.

Next on my writing agenda is a sum-up of our fridge root cellar experiments, but after that I should be back to work on the next Permaculture Chicken installment --- forest pastures, chicken moats, and more. Thanks for reading!

Back before I learned to self-publish, I wrote a children's picture book about chickens for a friend's baby. Since then, the file has been sitting on my computer gathering e-dust.


But no longer! When I dusted off the virtual pages, I discovered the story still captured my interest, so I thought it might capture yours as well.


Rather than selling the picture book separately, I added it as a bonus at the end of The Working Chicken. If you've bought the ebook on Amazon, you should get an email from Amazon shortly letting you know that you can download the updated version for free. If you don't have the Amazon ebook, just email anna@kitenet.net and I'll send you a copy of Hop, Step, Peck...RUN! Enjoy!

The Permaculture Chicken Incubation Handbook is now available for 99 cents on Amazon!

The boook walks beginners through perfecting the incubating and hatching process so they can enjoy the exhilaration of the hatch without the angst of dead chicks. 92 full color photos bring incubation to life, while charts, diagrams, and tables provide the hard data you need to accomplish a hatch rate of 85% or more.





Topics include:

How chickens fit into a permaculture system
Reasons to incubate your own eggs
The mother hen option
Choosing the best eggs, with information on seasons, parentage, egg shape, and shell quality
Storing and marking eggs
What to expect when buying mail order eggs
Choosing the best incubator
The basics of incubation: time, temperature, humidity, turning, etc.
Pros and cons of dry incubation, including ways to calculate egg weight loss
Candling eggs
What to do during temperature spikes and power outages
Preparing for the hatch, hatching, and dry off period
When and how to help chicks out of the shell
How to tell whether unhatched eggs are alive
Calculating percent viable eggs, hatch rate, and survivability
Troubleshooting incubation problems, including tips on autopsying eggs and a dichotomous key to pinpoint causes
Diagnosing, preventing, and dealing with hatch-related ailments like wry neck, spraddle leg, and more
Caring for sick chicks and knowing when and how to euthanize
Basic needs of chicks after hatching: temperature, food, and water
Housing chicks, with information on outdoor brooders
Pasturing very young birds
Since it's chick-starting season, I shouldn't be surprised that the first facet of the Permaculture Chicken that I wanted to write about was ways to incubate and hatch homegrown chicks successfully.

I've learned a lot over the last couple of years about how to get better hatch rates (and feel less stressed during the process) and I thought I'd share my tips to help others achieve the same skill set faster than I did.

Stay tuned to this space for an announcement when the Incubation Handbook is ready to go live. I expect a launch date of late March or early April. Right about the same time our second set of eggs hatches....

Want to be notified when new comments are posted on this page? Click on the RSS button after you add a comment to subscribe to the comment feed.