Chicken books
Start with chicken-keeping basics with our Working Chicken ebooks, or learn to integrate chickens into a permaculture homestead with volumes in the Permaculture Chicken Series.

Thrifty Chicken Breeds: Efficient Producers of Eggs and Meat on the Homestead
Ebook available:
Do you want your chicken habit to pay for itself?
Many backyard chicken keepers are surprised to learn that they spend more on store-bought feed than they would have paid for eggs and meat at the grocery store. If you're on a budget and want your foray into poultry to save money, not lose money, your first step should be to select thrifty chicken breeds.
The best breed for the cost-conscious homesteader will be a dual-purpose chicken that forages well, doesn't cost much to feed, stands up well to predators and weather, and lays copiously in the winter. In addition, Thrifty Chicken Breeds covers a variety of other factors homesteaders should look for when choosing new birds, then explains why a dozen common breeds do or don't make the cut.
This new installment in the popular Permaculture Chicken series helps make backyard chicken keeping cheaper, sustainable, less smelly, and more fun. Join the thousands of readers who have used Hess's tips to turn chickens into a frugal part of their permaculture homesteads!
38 photos and diagrams.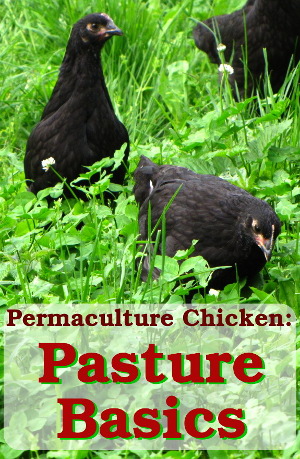 Permaculture Chicken: Pasture Basics


Ebook available:
Do you want to enjoy healthy eggs and meat from chickens raised on pasture?
Permaculture Chicken: Pasture Basics
starts at the beginning to help you design the best pasturing setup for your flock and for your homestead. Great grazing for chickens won't be found in the perfect pasture for sheep or cows --- you need to tweak your design to match a chicken's unique behavior and stomach.
Included in this volume are an explanation of chicken digestion and behavior, pasture specifics like size and shape, a rundown on which traditional pasture plants chickens enjoy, tips on maximizing plant growth during rotation, and an explanation of how to establish new pastures and maintain existing grazing areas. Cut your feed costs by pasturing your chickens!
59 photos and diagrams.
"Even for experienced chicken growers." --- Andrew Ayers "Ashaldaron"
"It was very informative and I believe that it will prevent me from making quite a few mistakes that I would have otherwise made do to my lack of understanding about the diet of chickens." --- NJS86
"This is actually a very well researched and organized book, replete with graphs, diagrams, and photos. Info is given on layout designs, types of vegetation, and creating and maintaining areas of chickie-optimized pasture. The text is informative and professional in tone, and refreshingly free of superfluous 'filler'." --- Ava Wilkerson
"This was just what I expected it to be. A basic description of what you need to know to get started on rotating chicken pastures to optimize chicken health as well as pasture health." --- Albert
Permaculture Chicken: Incubation Handbook


Available on:

The

Permaculture Chicken: Incubation Handbook

walks beginners through perfecting the incubating and hatching process so they can enjoy the exhilaration of the hatch without the angst of dead chicks. 92 full color photos bring incubation to life, while charts, diagrams, and tables provide the hard data you need to accomplish a hatch rate of 85% or more.
Topics include:
How chickens fit into a permaculture system
Reasons to incubate your own eggs
The mother hen option
Choosing the best eggs, with information on seasons, parentage, egg shape, and shell quality
Storing and marking eggs
What to expect when buying mail order eggs
Choosing the best incubator
The basics of incubation: time, temperature, humidity, turning, etc.
Pros and cons of dry incubation, including ways to calculate egg weight loss
Candling eggs
What to do during temperature spikes and power outages
Preparing for the hatch, hatching, and dry off period
When and how to help chicks out of the shell
How to tell whether unhatched eggs are alive
Calculating percent viable eggs, hatch rate, and survivability
Troubleshooting incubation problems, including tips on autopsying eggs and a dichotomous key to pinpoint causes
Diagnosing, preventing, and dealing with hatch-related ailments like wry neck, spraddle leg, and more
Caring for sick chicks and knowing when and how to euthanize
Basic needs of chicks after hatching: temperature, food, and water
Housing chicks, with information on outdoor brooders
Pasturing very young birds
96 photos and diagrams.

"If you are considering incubating hatching eggs then this is the book for you!" --- Thunder

"Wished I had read this before my first try at incubation." --- V. Schafer

"Empowering!!" --- Emily K. Reusing

Free
on:
Get ready for your new flock in thirty minutes or less!
A short, sweet, and self-sufficient guide to keeping chickens as part of a rural or urban homestead. Learn everything you need to know to get started on your poultry adventure, with quick answers to frequently asked questions like:
What kind of chickens should I get?
Which color eggs are best?
How many chickens should I get?
Should I add a rooster to my flock?
Where should I get my chickens?
She's so cute! Can I name her?
When should I kill my chickens?
What infrastructure do I need to make my chickens happy?
What should I feed my chickens?
Should my chickens have a tractor, a coop, or be free range?
How much space do my chickens need?
How do I manage my working flock?
What is the chicken's place in the farm ecosystem?
Now including a bonus picture book to inspire the next generation of chicken lovers!
"The author gives just what is needed to get started raising chickens." --- Veronica
"This is a quick little book packed with lots of good realistic advice." --- TSP
"A great first-read for anyone considering raising chickens. Lots of useful factual information for the experienced chicken keeper as well as for the beginner." --- pamela
"What a fun book to start with chickens. I like the photos of the chickens and the tractors. The breed list is very helpful also. The flow of the book is Interspersed with her dry humour. Love the children's book at the end." --- Mark D. Ellestad
Available on Amazon.
Looking for cheap, healthy meat? Growing your own chickens is the way to go, but killing and gutting your birds can be daunting. This ebook includes dozens of photographs to walk you through the entire process of butchering chickens from coop to table.
Information includes materials needed to kill a chicken, separating the bird from the flock, killing the chicken, scalding and plucking the chicken, eviscerating the chicken, cleaning the bird, chilling and aging the chicken, and cooking old chickens, bones, and giblets.