Weekend Homesteader
The Weekend Homesteader is full of short projects that you can use to dip your toes into the vast ocean of homesteading without getting overwhelmed.

If you need to fit homesteading into a few hours each weekend and would like to have fun while doing it, these projects will be right up your alley, whether you live on a 40 acre farm, a postage stamp lawn in suburbia, or a high rise.

You'll learn about backyard chicken care, how to choose easy mushroom and berry species, and why and how to plant a no-till garden that heals the soil while providing nutritious food.

Permaculture techniques will turn your homestead into a vibrant ecosystem and attract native pollinators while converting our society's waste into high quality compost and mulch.

Meanwhile, enjoy the fruits of your labor right away as you learn the basics of cooking and eating seasonally, then preserve homegrown produce for later by drying, canning, freezing, or simply filling your kitchen cabinets with storage vegetables.

As you become more self-sufficient, you'll save seeds, prepare for power outages, and tear yourself away from a full-time job, while building a supportive and like-minded community.

You won't be completely deleting your reliance on the grocery store, but will be plucking low-hanging (and delicious!) fruits out of your own garden by the time all 48 projects are complete.

Order the paperback now, or try out monthly excerpts for 99 cents using the links below.



If you want to stay up to date on the progress of Weekend Homesteader, just click on the RSS button below, or email anna@kitenet.net and ask to be added to my very low traffic email list. Thanks for reading!


"
The Weekend Homesteader
by Anna Hess, subtitled A Twelve-Month Guide to Self-Sufficiency, is one of my new favorite books on homesteading. I don't say that lightly.... What's so great about this book? In a word, organization.... The best part about the book being organized this way is that it takes a huge endeavor - becoming more self-sufficient - and breaks it into manageable chunks."
Lauren Ware's review on About.com
is by far my favorite one yet. She takes my obession with lists and turns it into an asset!
Meanwhile, now that the book is hitting stores, I'll be giving away a signed copy as part of an e-scavenger hunt next week. Stay tuned to
our homesteading blog
for details.
Whether you have acres of land or only a small urban plot, you can put Hess's suggestions to use, devoting only a few hours each weekend to projects that will help you decrease your reliance on the grocery store and create a thriving garden ecosystem -- and you'll have fun in the process!

Read the full review at
garden.org
.
Publishers Weekly thinks I'm naive (and they're probably right), but at least they printed a review:


More a grab bag than comprehensive guide, this collection of 48 weekends' worth of self-sufficiency projects gives wanna-be homesteaders who have more curiosity than time a taste of modern homesteading. Hess describes this process as starting where you are-whether a high-rise or suburban neighborhood or "where supplies have to be helicoptered in"-to "use sweat equity to grow nutritious, delicious food, create sustainable heat from locally grown wood, and use free organic matter to rebuild the soil." Hess draws on her own six years of trial-and-error homesteading, extensive reading, and contributions from her blog readers to teach skills that include mapping your yard and neighborhood, planting a garden and a fruit tree, saving seeds, budgeting your time and money, finding collaborators, preparing for power shortages, and even weaning yourself from the media. Some readers may question the need for instruction in simple common activities like hanging laundry or roasting a chicken, and Hess's focus tends more toward her own rural milieu than that of urban apartment dwellers. On the whole, however, the book enthusiastically, if sometimes naively, helps readers succeed at dipping "into the vast ocean of homesteading without being overwhelmed."
"As food self-sufficiency awareness grows, books appear to support such efforts. Hess is unique in her recognition of the practicality of weekend-only attention to these pursuits.
"
You can read the whole Booklist review
here
. Apparently, being one of the 8,000 books reviewed each year by this publication of the American Library Association will help
The Weekend Homesteader
get on library shelves across the country.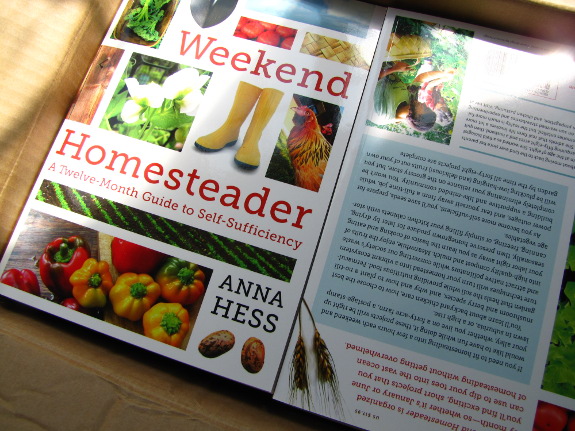 My twenty free copies showed up in the mail last week --- proof that The Weekend Homesteader is a reality! I was very pleasantly surprised since the book looks even better in person than it did as a pdf.

Now for the bad news --- I'm afraid that the general public is going to have to wait a bit longer than expected to get a copy. The release date has been pushed back to November 13 to give Skyhorse time to lay the groundwork (and to take advantage of holiday sales).

If you don't want to wait quite so long, my publicist has a solution. He's able to send out free copies to bloggers to review and/or give away, so now's the time to email me if you're interested (and haven't contacted me previously). I'm not sure how many copies that offer encompasses, so be sure to include the URL of your blog and any relevant statistics in your email --- I suspect my publicist will choose bigger blogs first.

Thank you all for your enthusiastic support of the book!

I have to admit that I just wasn't sure when I saw The Weekend Homesteader's front cover for the first time. But those yellow boots grew on me, and I liked the way many of the same images worked their way into the meat of the book.

Today my editor emailed me the full jacket (front and back cover with spine) and all ambivalence is gone! I love it! What do you think?

(Don't forget that you can preorder The Weekend Homesteader for only $11.27 on Amazon.)

Lots of exciting news! First, early presales have kicked The Weekend Homesteader up into the top 100 in Amazon's Sustainable Living category a few times during its first week. Thanks to everyone who preordered (and be aware that the price dropped to match that of Barnes and Noble, so you'll be paying less than you thought for the book).

Equally exciting, my editor send me a rough draft of the layout for the first few pages, and I love the way the white space and simple formatting draw the eye. What do you think?

I also learned that I will probably have at least a few copies of the book in my hands by early September and may be able to send out some copies to be reviewed. Anyone interested in reviewing an early copy?

Thanks for your continued support!

My publisher reminded me that Weekend Homesteader is already available at multiple online retailers. That's one of the perks of going with a publisher --- I don't have to figure out the nuts and bolts of several different websites. (Yes, pure laziness is the reason I've only sold at Amazon in the past.)

Here are your choices so far:

Weekend Homesteader is available at the reduced rate of $11.27 at Barnes and Noble
Amazon still has the book listed at full price ($17.95), but their preorder guarantee means you should be charged no more than $11.27

As I understand it, Indiebound.org will include listings for my book in October once it's in print. I'll keep you posted when even more options are available!

While poking around on Amazon, I noticed that the paperback version of Weekend Homesteader is already available to preorder!!! What an exciting Sunday morning surprise.

The release date is October 7, but you can order now and the book will ship when it's in print. You'll be doing me a favor by ordering early since your "vote" for the book will send it up the Amazon rankings chart and help it reach new eyes.

(Please ignore the line "A woman, her husband, cats, chickens, rabbits and honeybees taking a stab at urban farming one weekend at a time—now you can join her!" --- I've asked my editor to correct the obvious mistakes.)

Thanks in advance for your support!

My editor just sent me an email to let me know that the design team has come up with a classy cover for
Weekend Homesteader
! Since the cover is white, I've changed the background color on this post so you can see it better.
I promised myself that I wouldn't be an authorial diva as I embarked on the publishing process, so I'm holding my tongue about the fact that half the pictures aren't my own. When I take a step back, I suspect the publishing house is right to add in pretty things like yellow boots (even if I wouldn't be caught dead in them) and tomatoes that are obviously storebought to my eye. I'm also sad not to see photos of non-garden topics like preserving that are well represented in the book, but I figure there's only so much space and some things are easier to visualize than others.
Mark says he likes it, so I suspect the cover is good. What do you think?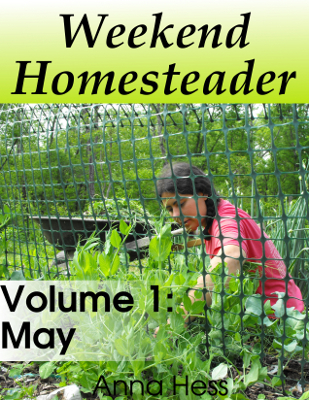 In November, I signed on with Skyhorse Publishing so that Weekend Homesteader could become a full color paperback, available in bookstores throughout the U.S. and Canada in fall 2012. This week, I finally turned in the manuscript.

Now that Weekend Homesteader has stretched her wings and is ready to fly on her own, I figured she was old enough to have a designated news feed. Click on the RSS button here if you want to be sure to hear about the print book's progress. Or drop me an email and ask me to add you to my low traffic (an email every month or two) email list to stay up to date on book news.

While you're waiting, don't forget to complete your set of Weekend Homesteader, first edition. Each month is just 99 cents in Amazon's kindle store!



Want to be notified when new comments are posted on this page? Click on the RSS button after you add a comment to subscribe to the comment feed.