Modern Simplicity
Our Modern Simplicity series suggests ways to incorporate appropriate technology into your life, giving you time to pursue your passions.

Modern Simplicity: Five-Book Bundle --- by Anna Hess, Mark Hamilton, and Errol Hess


Save when you buy the bundle!
Available on Amazon.
This five-book set includes

Microbusiness Independence

,

Trailersteading

,

$10 Root Cellar

,

Growing into a Farm

, and

Low-Cost Sunroom

.
Each book in the series suggests ways to incorporate appropriate technology into your life so you have time to pursue your passions. Learn to create an online business homestead-style, dumpster-dive your living accommodations, turn a junked fridge into a root cellar, build a low-cost sunroom add-on, then enjoy the tale of how two homesteaders fell in love with each other and with a farm.
Over 400 pages of homesteading wisdom from three authors will jump-start your own journey toward self-sufficiency. The ebook comes alive with over 290 photos and illustrations.
Modern Simplicity has sold more than 10,000 copies, has garnered over 150 five-star reviews, and is becoming an internet sensation!
Low-Cost Sunroom: Heating Your Home With Free Solar Energy --- by Errol Hess


Build a greenhouse add-on for less than $15 per square foot!
Available on Amazon.
A sunroom built onto the south side of an existing home is the most cost-effective way to capture the energy of the sun. The add-on not only lowers your heating bills, it also provides space to start seeds in the spring and to extend your gardening season in the fall.
This book includes 32 photos and diagrams, including scale drawings to make your building project simple. Download the primary plates free here.
"An easy low cost sun room !!" --- Barbara J. Wead
"It gave practical information and good detail about setting up a solar greenhouse that can supplement the heating/cooling of a residence." --- JeremyK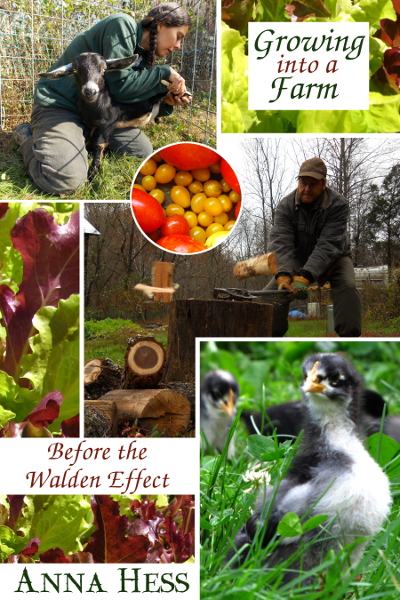 Growing into a Farm: Before the Walden Effect --- by Anna Hess


"This is a love story in three parts about how I ended up with much more than I bargained for, and grew beyond the person I thought I'd be."
Available on Amazon.
Anna Hess spent her early childhood chasing ornery cows back into the barn, eating all the strawberries before they got ripe so she didn't have to share them, and climbing sap-riddled pine trees. The reality of farm life seemed to be summed up in one word --- bliss. So when her back-to-the-lander parents threw in the towel and moved the family to a nearby town, Anna resolved to save her pennies and find a farm of her own, one that she would never have to leave.
A couple of decades later, Anna had bought the property, but soon realized she couldn't make her dreams come true alone. When a friend set her up with a potential mate, Anna went along grudgingly. "To be honest, at the time I was still pretty sure that a farm and a man were incompatible," Anna wrote, "and given the choice I leaned toward the farm." Little did she know that the best partnership was a threesome --- a man, a woman, and a farm.
Full of photos, this book serves as a preface to the popular homesteading blog, Walden Effect.



"Finally, the story behind the stories!!" --- J. Shambrook





"I'm fond of homesteading memoirs, and this is one of the sweetest I've read." --- Linda Sing





$10 Root Cellar: And Other Low-Cost Methods of Growing, Storing, and Using Root Vegetables --- by Anna Hess


1/10 of an acre can feed you all year!
Available on Amazon.
The easiest way to grow more of your own calories is to focus on roots like potatoes and carrots. With yields of up to 200 calories per square foot, you can break your reliance on the grocery store with just a few seeds or starts and a shovel. Most root crops are easy to store through the winter and require no special harvesting or processing equipment.
So why don't we all grow roots? To keep them happy after harvest, these crops need a cool, damp storage spot like a root cellar. This book walks you through building a root cellar out of a junked fridge for $10, and also presents some slightly-higher-cost options for winter storage. Other highlights include tips for growing storage vegetables and feeding those roots to your family or your livestock.
Self-sufficiency begins with the potato....
69 photos.
"
The $10 Root Cellar: And Other Low-Cost Methods of Growing, Storing, and Using Root Vegetables
is a well-written guide to providing food-safety for your family without spending a fortune." --- Everett Sizemore
"Fantastic book! I'm always looking for ways to do things on the cheap and this book is the answer to storing root vegetables and many other how questions. Worth much more than it's current price in my humble opinion." --- Deborah B. Stubbs
"This should be how kindle books should be done!" --- thefreelifelover
Trailersteading: Voluntary Simplicity in a Mobile Home --- by Anna Hess


All the advantages of a tiny house at a fraction of the cost!
Available on Amazon.
Imagine what you could do with your time if you didn't have to spend $16,000 a year on rent or a mortgage. Old single-wide mobile homes can often be found for free (and installed for a couple of thousand dollars) in rural areas, so trailersteading is akin to dumpster-diving. A trailer allows you to live without debt, to keep your ecological footprint to a minimum with energy bills at or below the national average, and even to blend right in with traditional house-dwellers after a few years.
Trailersteading
profiles nine mobile-home-dwellers who have used trailers as a stepping stone toward achieving their dreams. Some have spent the cash they saved by renovating their trailer with extra insulation, pitched roofs, classy interiors, and even basements, while the extra money has allowed others to go off the grid. Many also took advantage of a low-cost housing option to pursue their passions, becoming full-time homemakers or homesteaders.
In addition to the case studies, the book presents easy methods of minimizing the negative sides of trailer life and accentuating the positive. For example, did you know a single-wide is easy to retrofit for passive solar heating? That a simple plant-filled trellis can break up the blockiness of the trailer's external appearance? Learn which parts of installing and upgrading your trailer are easy for a DIYer and which parts should be left to the experts, along with how to cheaply heat and cool a mobile home.
124 photos and diagrams.
"If you have any desire for either simplistic living, or homesteading, you need to read this book. Its a phenomenal read, and I can't recommend it highly enough." --- Andrew Ayers
"An old, abandoned, windowless mobile home, hauled to a new homestead, became the hub of a vibrant new life for Anna Hess and her husband-to-be Mark Hamilton. Her engaging prose and rich illustrations from half a dozen trailer-homsteaders are likely to entice others to consider this often-overlooked option for building a rewarding, debt-free life on the land." --- Richard Austin
"
I have been reading the Permaculture/self sufficiency/homesteading literature for a number of years now and have amassed quite the library in this genre. It has become rare to find something really new and exciting and that fires up my imagination. Trailersteading did that for me." --- Tommy Bleasdale
Microbusiness Independence --- by Anna Hess and Mark Hamilton

Available on Amazon
"WOW! This little ebook ROCKS! It is filled with real examples of them building their invention business from the ground up. I have read many years of business books, and never in any of them have I seen the actual practical applications that I saw here."
--- Mac

Invent your way out of the rat race!
With less than a thousand dollars in startup costs, we built a small, home-based business that started paying all of our bills in just six months. I'm here to tell you that you can make money from home too, and in a way that fits a simple, homesteading lifestyle. In fact, using all of the tips in this book, I'll bet we could have reached our current work at home income level in half the time.
Microbusiness Independence
is not a get rich quick book. Instead, it gives you tried and true, up-to-date information on how to make a comfortable living in just a few hours per week by marketing your invention. (Don't worry, we'll help you figure out what your invention is too.)
We start with basics and walk you through developing your product, selling it to the world, and living the dream with a modern perspective. Don't fall for the many work from home scams out there --- create your own business and attain true independence!
"This eBook offers loads of good information about starting a small business, and is worth alot more than the micro-price. The advice is genuine and realistic unlike many similar books I've read, focusing primarily on a business built around creating a niche product sold online. The book hits all the important aspects of starting a small business and more, while getting to the point without alot of fluff. If you are looking for a way to quit the rat race without working yourself to death, give this book a shot." --- Independent Grouse
"I am amazed at just how much information this ebook contains! It covers a great deal more than I had expected. Anna's writing style is friendly and very pleasant to read. She makes you feel like she's your next-door neighbor who always has a simple answer to your problem and a cup of sugar to lend. I felt inspired within the first few pages and confident at the end that I can turn her suggestions into a successful venture." --- Chicken Tender


"Get this book!" --- Cliff
Want to be notified when new comments are posted on this page? Click on the RSS button after you add a comment to subscribe to the comment feed.