Wetknee Books News
Stay tuned to blog posts by our authors below.

Not into blogging? Follow us on Facebook.

Print books take quite a while to come down the pike even after I finish polishing every last word. But ebooks are faster. So I decided to launch my upcoming soil book in ebook format a quarter at a time, with the first installment hitting ereaders in early January.

Personality Tests for Your Soil includes fun and easy ways to gauge the health of your soil. You'll measure carrots, play with mud pies, and assess your weeds to get a big-picture idea of what's right or wrong with your dirt. Then follow my tips to figure out which soil tests --- if any --- are necessary to bring your garden to the next level of ecosystem health.

Sound interesting? Here are the links:

And to give you an incentive to preorder early, I've set the price to 99 cents for the first week. So snag a copy now while it's cheap, and thanks in advance for reading!
Do you need a treat? Finn from Jaguar at the Portal begged me to let him take Ixchel on an after-hours date in an art museum. And once the short story was completed, I realized that it would totally spoil Jaguar at the Portal if you hadn't read the novel first.

So, in the interest of making sure you read in the proper order, I've set the novel FREE on Amazon today and am also letting you download the short story for FREE here on my website.

I hope you enjoy them! If so, feel free to tell your friends or write a review. Every vote of confidence gives me another hour to write so I can keep these stories coming your way as quickly as possible. Thank you!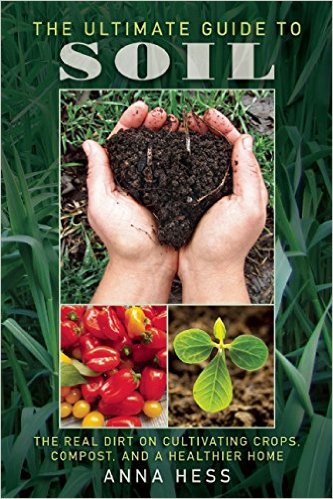 I've got a lot of book news to share, but I'll start with the part I'm most excited about. My newest book, The Ultimate Guide to Soil, is up for preorder in paperback format and you can read a sample section here. The far-reaching title really inspired me, and I can honestly say that this is my best book yet. I hope you enjoy reading it as much as I enjoyed writing it!

Meanwhile, in between extensive bouts of editing, I've been making several of my ebooks available beyond Amazon. Growing into a Farm is now available at:

$10 Root Cellar is now available at:

Homegrown Humus is now available at:

And I'm hoping I can bribe you to copy and paste any reviews you may have made on Amazon onto one or more of these platforms. Since I know the request is a bit annoying, I'm sweetening the pot by giving away a signed paperback copy of The Weekend Homesteader to three lucky winners. Just leave your review, copy the link, and input your information in the rafflecopter widget below. Thanks in advance for your help!


Sapling Grove Secrets recently enjoyed a positive review in Friends Journal. Actually, the collection of short stories has all good reviews, averaging 4.8 out of 5 stars on Amazon. Maybe it's time to give these surprising short stories a read?

Book two in the Wolf Rampant trilogy. When a female werewolf shows up on Terra's doorstep smelling just like her absent mate, the new alpha is faced with her biggest hurdle yet.

99 cents for a limited time!

Book two in the Forever Girl series. Even if Cordovae can kill the dark spirits plaguing Salem quickly enough to return forward in time and save her daughter, there's still one problem: she's falling in love with a man who can't return with her.

Book two in the Devil Series. To save Eve, Lucien must face the monsters of his past. But when they collide with the present, the consequences prove deadly.

99 cents for a limited time!



The prequel to Ruby's Fire. Varik inherits a sea farm after the mysterious drowning of his marine biologist father. When a beautiful terrorist steals from his father's secret seed bank, he must venture with her into a zone teeming with treacherous nomads and cults to search for a magical hybrid plant that may not even exist.

99 cents for a limited time!



Part of the Moonlight story line (a companion and series starter).

Becoming a vampire is easy. Living with the condition... that's the hard part.

99 cents for a limited time!





Book two in the Conduit series.

After narrowly surviving a murderous mob, curvy Conduit/Supplicant Charisse and alpha Beast Abram escape to the remote island of Grimoult, where their relaxing vacation soon turns into a sinister suicide mission.

99 cents for a limited time!





Book two in the Broken Angel series. When secrets of the past are finally revealed, tempers flare, brother is pitted against brother, and fallen angel Lash and Naomi face their greatest threat: choosing love, family, or duty.

99 cents for a limited time!



Book two in the Mythean Arcana series.

A man desperate to save his soul and a witch forced to live as a renegade team up to defeat an evil that could destroy them.

99 cents for a limited time!



While this title is also the first book in The Ryan Chronicles, Saving Grace picks up where Trinity Rising leaves off. CJ Ryan holds the power of the gods, and Lucifer wants him in order to destroy Damian and obtain a coveted trinity to build his dark army.

99 cents for a limited time!
Other 99 cent books you may enjoy:
Freak. Weird. Crazy. These are the names tossed around seventeen-year old Jane Watts by her fellow classmates. But things aren't always as they seem. Sometimes there's a reason for talking to yourself in the hallway at school.

99 cents for a limited time!






After a teenage boy ingests a stolen drug from a medical research company, his dark alter ego takes over and he is determined to make Claire just like him. Like hell.

99 cents for a limited time!

Toni's grandmother is a psychopath.

Her sister is a ghost.

Her boyfriend is possessed.

And she has no idea who she is.

99 cents for a limited time!





Ixchel is a lonely veterinarian fleeing from her past. Finn is a were-jaguar hunting for his future. Can the two learn to work together, or will they lose the game that has turned into a struggle for survival?

99 cents for a limited time!

Book three in the Wolf Rampant trilogy is now live
, which means Terra's adventures are complete! This was my favorite book in the series to write, and I hope you'll enjoy it as much as I did.
What's next? Wolfie's youth deserves at least one more short story, possibly two. But I've also got my eye on a spinoff series featuring Fen. So stay tuned, and I hope you're enjoying the ride!
Angels, Demons, Vampires, Shapeshifters & More
With twenty-one stories, including Trinity Rising, and over one million enchanting words of fiction, this limited edition PNR boxed set will keep you spellbound. Dive into Secret Worlds you never knew existed and into the arms of heroes who will steal your heart and leave you hot.
Every title in this set has been edited to quality standards and professionally formatted, and this boxed set is available for just three bucks—but only for a limited time!
Mornings are a challenge with Damian being mortal, he instinctively dives for the floor when dawn's light illuminates the bed. The scald of whiskey, and the way Naomi feels, are the only constants which haven't changed. However, his mortal world begins to shine when fatherhood hits his horizon.
Plans for a bright future disintegrate when Lucifer comes to claim their Trinity child, playing dirty by framing Damian for murder. Now, Damian and Naomi are on the run from both Lucifer and the law. They find an ally in a most unlikely source, ex-FBI agent Steve Williams and his family; a family with enough psychic energy to wage a war and realign the universe.
With their new friends as part of the dynamic, Damian and Naomi are desparate for victory against the devil. One wrong step and they could trigger Armageddon, or worse, the hope for our future could fall into Lucifer's greedy grip.
Secret Worlds - A Steamy Paranormal Romance Boxed Set
Ready to Turn Up the Heat?
Whether you love paranormal romance that warms you up or sets you on fire, this boxed set will have something to entice your preternatural sensibilities.
Supernaturally thrilling and engaging, this boxed set has it all: ghosts, vampires, mind-readers, shapeshifters, demons, faeries, werewolves, and more.
For a limited, you can enjoy books from today's USA Today and Amazon Bestselling, including titles that are slated for the big screen!
When purchased separately, these books cost over $50! But they are yours today for less than $3.
Every selection in this rare, limited edition paranormal romance boxed set are full-length novels and novellas!
Secret Worlds, a best-selling boxed set of spicy paranormal reads, is brought to you by twenty-one USA Today and Amazon Bestselling Authors!
With twenty-one stories and over a million enchanting words of fiction, this paranormal romance boxed set will keep you spellbound.
Dive through Secret Worlds and into the arms of heroes who will steal your heart and leave you hot.
The first novel in my Mythean Arcana paranormal romance series, Braving Fate, is included in the amazing Secret Worlds boxed set. I'm super excited to be part of this awesome line-up of great paranormal romances. Twenty-one books for three bucks?! You can't beat that.
ABOUT BRAVING FATE
Bookish academic Diana Laughton has been having terrible dreams. Dreams of battle, dreams of blood... dreams so vivid she's living them day and night. When demons invade her quiet life and she flees to Scotland, she wonders if she's going mad. Or if perhaps she's remembering a past life she had no idea existed....
Mythean Guardian Cadan Trinovante loved and betrayed Britain's warrior queen Boudica two millennia ago. Now he's tasked with protecting mortals whose lives affect the fate of humanity. His latest assignment is Boudica herself, reincarnated as a woman with no idea of her past or her fated future. Though in the irresistible form of Diana Laughton, it's possible Cadan has once again met his match....
Thrown together in a shadowy world that exists alongside our own, Diana and Cadan must fight not only the demonic forces that want Diana dead, but a past and a passion that have lasted centuries. Their desire could be deadly. But as evil from the underworld unites against them, their only hope could be each other.
WHAT READERS & REVIEWERS ARE SAYING
"This book is simply outstanding. The world of the Immortal University is peopled with diverse, unique and fascinating creatures of all persuasions... It is full of suspense, mystery, struggle, action, love, tension and twists that astound." -Bitten by Books
"This is a MUST read!!" -Rakes of Romance
"I was blown away by how much love I have for this book." -One Curvy Blogger
"Outfreakingstanding!" -Anne C., Paranormal Romance and Authors that Rock
"Linsey Hall's brilliantly imaginative Mythean Arcana is THE must-read series of the year for fans of paranormal romance.." -Maggie Shayne, NY Times Bestselling Author of TWILIGHT GUARDIANS
I'm very excited to be included with 20 other USA Today and Amazon Bestselling Authors in the Secret Worlds Boxed Set. Many of you are probably already familiar with my included title, SUMMONED, but for those who aren't, here's the full blurb:


Twenty-three year old Dimitri has to do what he is told—literally. Controlled by a paranormal bond, he is forced to use his wits to fulfill unlimited deadly wishes made by multimillionaire Karl Walker.

Dimitri has no idea how his family line became trapped in the genie bond. He just knows resisting has never ended well.

When he meets Syd—assertive, sexy, intelligent Syd—he becomes determined to make her his own. Except Karl has ensured Dimitri can't tell anyone about the bond, and Syd isn't the type to tolerate secrets.

Then Karl starts sending him away on back-to-back wishes. Unable to balance love and lies, Dimitri sets out to uncover Karl's ultimate plan and put it to an end. But doing so forces him to confront the one wish he never saw coming—the wish that will destroy him.

A dark twist on genie folklore, SUMMONED follows a reluctant criminal as he unravels the mystery of the paranormal bond controlling him.


Summoned has over 125 reviews on Amazon. Normally you can purchase my book alone for $2.99, however, for this summer only you can snag a copy of this title WITH 20 OTHER ADDITIONAL TITLES all a boxed set for $2.99! Some are not yet available alone and being introduced exclusively through the boxed set, but ALL of the titles are professionally edited and not a single one ends on a cliffhanger! You can order your copy on Amazon today.

Congratulations to Errol, whose books and life were recently written up in The Press and Banner and Abeville Medium! The article isn't available online, so I'll just quote a few short passages below:


"His life in a small town included being a paper boy.... In addition to delivering the printed page, he consumed it with a singular joy.

"'I was a voracious reader,' he recalled. He read most of the books in the St. Marys library, and the library staff got so tired of checking out books for him that eventually he was allowed to check out his own books --- possibly the only student with that privilege."


To read more, you'll have to track down a copy of the paper...or check out Errol's book Hunting Pennies, which details the trials and joys of a small-town boyhood.