Wetknee Books News
Stay tuned to blog posts by our authors below.

Not into blogging? Follow us on Facebook.

A myth with no name, no flesh, no sex, and no identity...
...unless it wears you.
PURGATORY takes a doppelgänger through a number of female hosts in search of love in a world where it doesn't exist.
As she slowly walks toward me I can smell desire. Not human desire, a musky, animalistic desire—essential, dark, and demanding. Her blouse comes off first and she tosses it at my feet, steps out of her cutoffs, and stands before me in a triangle of black lace.


Our eyes lock. I feel hair on my neck prickle as my spine shifts and mouth salivates; heart hammering, jaw tightening, I bend and pick up her clothes. She's a breath away, waiting, feet parted, lace riding fingers as she runs them over her hips. I grit my teeth and place the clothes in between pink breasts framed in rich tanned skin; when my knuckles connect with soft creamy flesh my body tightens, prickles another warning, and it's all I can do to keep from taking her right there.
I can hear his heartbeat; I feel the heat of his gaze, the strength behind his touch. Crap! My head is spinning—my head, not the human's I'm wearing. I never do this. I amuse myself and let them do the dreaming, the what-if's, and get off on that. I don't contemplate commitment, relationships, love! I just get my high on. I trade them their lives for a quick fix.
Damn it, sex with this guy is not going to be a quick fix. I want...

I realize I'm grabbing for my clothes before they fall to the floor, and he's stepping back, shaking his head. What the hell?
Sexy laugh, body to die for, and eyes to get lost in, Gaire intrigues me, attracts me, and churns up feelings I've never felt before.
But he turns out to be the ultimate
bad boy. I run, and swear never to look back. Only problem is, I can't forget him.
Part of the Secret Worlds Boxed Set, $0.99 for 21 Books in 1 Set for a Limited Time.
Connect with Susan Stec on:


From 21 USA Today and Amazon Bestselling Authors
Secret Worlds - A Sweet and Spicy Paranormal Romance Box Set
COMPLETE, FULL-LENGTH BOOKS! NO CLIFFHANGERS!
Professionally edited and and Formatted for Quality Assurance.
MOONLIGHT is a part of this amazing collection.

Good girls don't wear fur or fight over men, and they certainly don't run around naked, howling at the moon.

But then, no-one ever called Fallon a good girl.

As a human unofficially mated to an Alpha werewolf, Fallon is being pressured to "become"... or be gone.

Her mate Aiden, the interim leader of the Olde Town Pack, is in a position that demands he either choose a wolf mate or leave the pack forever. No matter how hot the sex with Fallon is, he can't ignore centuries of tradition.

Become a wolf or not: If only the choice were that simple! Fallon's options are further clouded by the overt presence of other females desperate to be the Alpha's mate. And when these bitches get serious, it's not just claws that come out. If Fallon wants to keep her man and take the title, she'll have to exert a little dominance of her own.

Angels, Demons, Vampires, Shapeshifters & More
With twenty-one stories, and over one million enchanting words of fiction, this limited edition PNR boxed set will keep you spellbound. Dive into Secret Worlds you never knew existed and into the arms of heroes who will steal your heart and leave you hot.
Save over $50! This set is only available at this price for a limited time, so order your copy before it's gone!
On sale now for $.99
Giveaway Announcement!
We have 70 Prizes up for grabs at our Facebook Party, including multiple giftcards ranging from $5-$100 or a Kindle Fire! And the prizes just keep coming! Be sure to Join the Party for your chance to win and learn more about the additional prizes we have coming down the pipeline!

Snap Up Our Limited Edition Boxed Set for $.99
Your preorders spurred me to write fast, so Jaguar at the Portal is currently at the copyeditor's and will go live within the next couple of weeks! In the meantime, here's a (non-copyedited, possibly typo-ridden) excerpt from the beginning, which is going to be part of the Paranormal Romance Blog Hop. (Authors, click on the picture to see how you can join the tour. Readers, click on the picture July 14 to read lots of great excerpts!)


***

Ixchel always dreaded May 3, but not because she worried about growing old. No, the twenty-seven year old was more afraid of never getting the chance to see her next birthday than of sprouting gray hairs.
Which meant she usually ended up running into doors on her birthday due to excessive over-the-shoulder looking in search of brothers who had every reason to wish her harm.
And, yet, nothing bad has happened for the last nine years, Ixchel reminded herself at dawn as she and Mr. Fuzzy set off for his morning constitutional. The coddled spaniel had been in her charge for five days now while his owner was on vacation, and the veterinarian had quickly grown attached to the borrowed bundle of fur. She'd even gotten to the point where she'd deemed the dog attentive enough to run off-leash...assuming they set out the back way and stayed far from any roads, that is.
Now the dog bounded ahead just out of sight, and Ixchel hurried her steps to catch up as she heard him begin to bark. It would be just her luck if Mr. Fuzzy got skunked or otherwise ended up in trouble that would make the vet look bad when his owner returned that afternoon. Nothing like failing to take care of the mayor's dog to turn a newcomer to the community into the county pariah.
Ixchel wasn't terribly concerned, though. After all, Mr. Fuzzy liked to bark at squirrels, birds, and even run-of-the-mill trees that the dog thought were looking at him funny. So, most of the vet's attention remained focused on self-chastisement. Today is just another day, she told herself. It's high time I got over my jitters.
Ahead, Mr. Fuzzy came into view, his front paws resting on the trunk of a spreading elm tree as he yapped up into the canopy. Treed another butterfly, have you? Ixchel thought with a grin. But she still did her best to bring the dog to heel. "Here, boy!" the vet called, before craning her neck to see what the spaniel had discovered.
Oh no.
This couldn't be happening. Not in the safest place Ixchel could think of in which to sink her roots. Her practice was rural enough that the vet couldn't see any neighbors out either the front or the back doors, but the building wasn't located deep in the back country. So there really shouldn't have been a tremendous black feline crouched on that branch. Maybe if Ixchel blinked, she'd realize that Mr. Fuzzy had simply treed a raccoon.
Nope, still there. Still a mountain-lion-sized cat whose fur seemed to suck light out of the morning air due to the intensity of its blackness.
"Mr. Fuzzy, let's go," the vet called, trying to keep her voice calm but instead hearing the words emerge as a shriek. She wasn't sure what kind of creature the huge black cat would turn out to be, yet she was pretty sure the feline could eat her charge for dinner.
But Mr. Fuzzy was too intent on the hunt to listen to his temporary mistress, and the feline appeared to be growing annoyed at the spaniel's persistent barking. So Ixchel stood frozen in place and watched as the cat stalked down one of the spreading limbs. It was now nearly at the trunk and only ten feet above the smaller animal's head.
This can't be happening!
Ixchel told her feet that the smart thing to do would be to run away, with or without the cuddly-but-not-overly-bright spaniel. Mr. Fuzzy was only a dog, after all. And if the vet walked any closer, she would likely be mauled by the sharp claws that she knew to be embedded in the feline's dinner-plate paws.
But Mr. Fuzzy was the closest thing Ixchel had to a friend at the moment. And how sad is that? Plus, she really didn't want to imagine the bad PR resulting from a dog she was boarding being eaten by a cat. So, instead of following her own advice, the vet instead found herself striding directly toward the spaniel and lunging for his collar.
At the same moment, the cat jumped down and landed lightly on its feet mere inches from Ixchel and her borrowed pet. The beast's eyes were a yellow more intense than Ixchel had ever seen on a living creature, and they seemed to bore through her skin and into her soul.
Focus. What did they say to do if you meet a mountain lion in the wild? Stand tall and raise your arms so you looked bigger than you really were, maybe. Or was that the recommended procedure for scaring off a bear?
Neither option seemed like a possibility when Mr. Fuzzy continued to think he was a rottweiler trapped inside a lap dog's body. The canine lunged forward, the feline hissed, and Ixchel found her disobedient feet following directly after those of her charge.
Her heart was beating so fast the vet thought she might pass out, but she was somehow able to latch one hand into the spaniel's collar before he could sink his teeth into the massive cat. Ixchel yanked Mr. Fuzzy up into her arms, ignoring his yelp of annoyance at being manhandled, then she forced herself to stand upright rather than turning and running away.
The vet fully expected to feel claws or teeth sinking into her skin at any moment. But, instead, the tremendous feline merely stood his ground and gazed directly into her face.
That makes no sense, the vet thought inanely. Feral cats never look you in the eye.
But the cat was looking. And he was so close that if Ixchel dropped the struggling Mr. Fuzzy, she could have reached out and stroked the feline's fur.
Yep, I'm definitely going into shock now.
"I'm sorry we bothered you," Ixchel said in her best soothe-the-terrifying-animal voice. "That was very rude of Mr. Fuzzy, and I'm going to take him right home and put him on bread and water. No doggie treats for him! You won't have to worry about either of us bothering you ever again."
As she spoke, the vet slowly backed away, her gaze still trained on the wild animal that could so easily bite off her hand. And why should he stop at a hand? The words ran through her mind like a hamster in a wheel. The cat's jaws are so huge he could probably consume my entire arm in one gulp and have room for a hot-dog chaser.
Then, so quickly that Ixchel almost didn't see him move, the cat turned and loped off into the shadows beneath the trees. Immediately, Mr. Fuzzy changed his tune from barking to face-licking, marring the vet's view of the long black tail disappearing from view. And Ixchel remembered how to breathe at last.
Could it really be that simple? Could the feline actually be gone?
Lifting the hand that she'd been using to pat the brave little spaniel in an attempt to calm him, Ixchel fingered the cat charm strung around her neck. Yes, birthdays weren't to be trusted. It was time to head back to her practice and hope that nothing else terrible happened on this third day of May.
***


Are you hooked? If so, Jaguar at the Portal is available for a limited time at 99 cents. Snag your copy now and it will be auto-delivered to your kindle when the book goes live. Thanks for all of your support!

Get your copy today!
Decades after being banished for saving a life he shouldn't have, a fallen angel, Lash, is given a chance to redeem himself. His mission: protect Naomi Duran. The assignment proves to be anything but simple when the Archangels withhold key information about Naomi and refuse to restore Lash's powers. When an unexpected source reveals centuries-old secrets, his trust is shaken to the core, and he begins to doubt those whom he had once considered to be his greatest allies.
Determined to avoid anything that would risk his chances of returning home, Lash struggles with the greatest obstacle of all—his growing feelings for Naomi. But when her life is threatened by an unknown source, Lash questions the wisdom of the Archangels and his ability to keep her safe.
Soon, Lash will have to choose where to place his trust—in the home he has fought so hard to regain or in the forbidden love he can't bear to lose.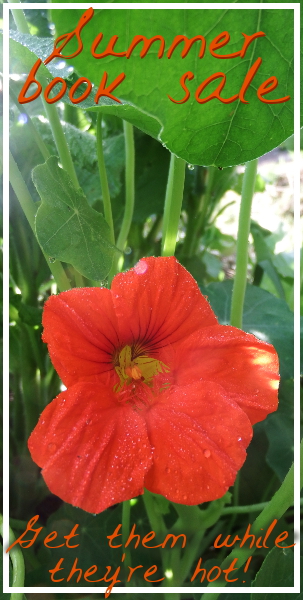 Now's your chance to snap up four of my ebooks at a dramatically reduced price! You'll need to mark your calendar, though, to catch each sale on the proper day.

I start off today with Homegrown Humus marked down to only 99 cents.

Thursday I'll bring you Thrifty Chicken Breeds at 99 cents.

We'll take the weekend off so you have time to digest this week's cheap books. Then next Monday we'll jump back on the sale bandwagon with Pasture Basics marked down to 99 cents.

And we'll finish our sale next Thursday when Growing into a Farm is also 99 cents.

As a side note, if you want to be reminded on each of these sale dates, you'll see my books in Buck Books' daily newsletter during this time period. Click here to subscribe and find lots of other 99-cent books too. I hope you enjoy the books!

Secret Worlds Boxed Set, $0.99 for 21 Books in 1 Set for a Limited Time.
Learn more at.....
http://parabookdeals.com/secretworlds/
SECRET WORLDS
Limited Edition Paranormal Romance Boxed Set
21 USA Today and Amazon Bestselling Authors.
21 of today's hottest, most sought-after titles.
Yours for only $0.99.
With twenty-one stories and over one million enchanting words of fiction, this paranormal romance boxed set will keep you spellbound. Dive into Secret Worlds you never knew existed and into the arms of heroes who will steal your heart and leave you hot.
Sale ends August 31st, 2015.
∼ ∼ ∼
My paranormal romance, Between is part of the set
BETWEEN (Dark Intent #1)
What do you do when two men enter your world and both have the power to kill you with a touch or a kiss? Can Rose trust either of them - or anyone in her new life? Ghosts? Demons? Angels? Or something more? The supernatural you find living and working in this English city are a little different to those you usually find in the genre... Rose survived the accident that killed her friend. The problem is, the life she returns to scares her more than the night she almost died.
When Alek and Finn enter her world, Rose discovers the after-effects of the accident are worse than she thought. The slow recovery and fogged nightmares aren't the only changes she needs to cope with.
Rose
has an immediate and intense attraction to arrogant housemate Alek. This confuses her as much as the chilling effect of her inscrutable work colleague Finn. As Rose struggles to cope with her new reality, she learns that her connection to the two men threatens all their futures.


Alek
has lived years closed off from people. He didn't expect someone like Rose to come into his life and challenge the reality he grips onto.
If
Finn
doesn't fix the mistake he made, his life is in danger. His desire to help and protect Rose makes his task difficult, especially when she's the mistake he needs to fix.
When Rose disappears and Alek's past catches up, she finds herself trapped between the living and the dead, struggling to fight her way back to reality. Alek and Finn could help her - but are they prepared to risk the consequences?
Between is a new series of urban fantasy books where the paranormal is a little different than usual.
Giveaway Announcement!
We have 70 Prizes up for grabs at our Facebook Party, including multiple giftcards ranging from $5-$100 or a Kindle Fire! And the prizes just keep coming! Be sure to Join the Party for your chance to win and learn more about the additional prizes we have coming down the pipeline!
PreOrder Our Limited Edition Boxed Set for $.99
Secret Worlds, a limited edition box set includes 21 full-length paranormal romance novel by 21 USA Today and Amazon Bestselling Authors. Don't miss it!
Hello people who don't know me!
My name is Lucy and I write the bestselling 'A Singular Obsession' Romance Erotica Series. I'm a relatively new author, but through some awesome people I've gotten the chance to a part of this amazing box set. Cursed is my first paranormal historical, and is the only regency novel in the box set. It's also the only one with a full three flame
EROTIC rating and recently earned a five-star review from Readers' Favorite. Hope you enjoy it!
Introducing Cursed, A Spellbound Regency Novel.
Isobel Sterling is a governess with a lot of secrets—including an uncanny ability she's been hiding her whole life. Until the day arrives when she has to use it to save herself from a madman. But first she has to master it. Fast.
Governess Isobel Sterling feels fortunate to have found a safe haven in the Montgomery household. The children are kind and the Lord and Lady of the house leave her alone. Her life is as good as it can get, until the day mysterious visitors arrive from abroad.
At first Isobel is flattered by the single-minded attention she receives from their handsome young guest, Matteo Garibaldi. At least she is until girls in the village begin to disappear. Isobel has a terrible suspicion that the disappearances are linked to the darkness she can see growing behind Matteo's eyes. Filled with dread she does everything possible to avoid his company—until she is locked in with him for the night.
Read the first chapter on Wattpad or check out my other recent titles on Amazon.
XOXO,
Cursed, A Spellbound regency novel, is part of the Secret Worlds Box Set available for preorder now for only 99¢.
This is a limited time offer, so hurry and reserve your copy today!
And be sure to attend the Facebook release party. More than 70 prizes—including 5 sets of the Singular Obsession ebooks—will be given away!
Amazon | Kobo | Apple | Barnes & Noble
Secret Worlds
Limited edition paranormal romance boxed set featuring 21 USA Today and Amazon bestselling authors in one sizzling collection.
With twenty-one stories and over one million enchanting words of fiction, this paranormal romance boxed set will keep you spellbound. Dive into Secret Worlds you never knew existed and into the arms of heroes who will steal your heart and leave you hot.

Available for only $0.99 June 29th - August 31st.


Featuring...

HUNTED (Riley Cray #1)
You thought your ex was a nightmare...
Eight years after the attack that changed her life forever, Riley Cray is confronted with something she never thought she'd have to face again: Samson Reed, the werewolf who nearly killed her, has escaped from prison and is headed to Colorado to finish what he started.
With the help of Special Agent Darius Holbrook, Riley is racing against time to stay one step ahead of the crazed werewolf. But Reed isn't the only monster with his eyes on Riley. And as the bodies pile up, she's beginning to wonder how long it will be before she's one of them.

Vampires, werewolves, and serial killers, OH MY!


Secret Worlds is available now for preorder through Amazon, B&N, Kobo, and iBooks, and don't forget to check it out on Goodreads. Also, join us online on June 29th and enter for your chance to win one of 70 prizes up for grabs at our Facebook Party, including multiple gift cards ranging from $5-$100 or a Kindle Fire! And the prizes just keep coming! Be sure to join the party for your chance to win and learn more about the additional prizes we have coming down the pipeline!
Announcing an exciting new box set that I am a part of!

From twenty-one USA Today and Amazon bestselling authors

Secret Worlds - A Steamy paranormal romance box set

Only 99 cents!

Limited Edition. Sale ends soon.

(Complete full-length books, no frustrating cliffhangers)

SECRET WORLDS
is a best-selling box set of spicy paranormal reads brought to you by USA Today and Amazon Bestselling authors! With twenty-one stories and over a million enchanting words of fiction, this box set will keep you spellbound! Dive through Secret Worlds and into the arms of heroes who will steal your heart and leave you hot.


Whether you love paranormal romance that warms you up or sets you on fire, this box set will have something to entice your preternatural sensibilities. Supernaturally thrilling and engaging, this set has it all: ghosts, vamps, mind-readers, shape-shifters, demons, faeries, beautiful hybrid creatures and more.

For a limited time you can enjoy all of these stories, including ones slated for the big screen!!! When purchased separately, these books would cost over $50! But they are yours for less than $1. Get yours before this limited time deal ends!

Pre-order Secret Worlds at Amazon, B&N, Kobo, iBooks


Summary of Ruby's Fire, my award-winning novel in Secret Worlds:


"Eighteen year-old Ruby and her little brother Thorn, have only known a life blighted by the extremist Fireseed Cult. The night Ruby is set to be claimed by one of its cruelest and oldest leaders, she makes a bid for freedom. With Thorn in tow, she stumbles into the world beyond, and finds an opportunity for a fresh start in Skull's Wrath under the guidance of Nevada Pilgrim, a woman who may not be all she seems. Ruby's new life could bring her friendship, love, even fortune, but nothing comes without a price. Is Ruby's talent for elixirs keeping the roof over their heads, or do some of her associates have a more sinister and lucrative interest in them? Life outside a strange cult isn't without its dangers, and the experience leaves Ruby transformed and communing with the Fireseed more closely than she ever would have imagined. Stine delivers a thrilling adventure led by an exciting cast of characters, and the romance is really well handled."

- YA's The Word

***Ruby's Fire was a finalist in the Next Generation Indie Awards***

"Romance, betrayal, secrets, great world-building!" - Seeing Night Reviews

"Full of creativity, imagination & original concepts" - Fluttereal Flight

"Ruby kicked butt as the resident healer, plus good love triangle!" - Amazon reader

"You know when you get a book and it's much better than you thought it was going to be? Ruby's Fire was definitely one of those books! I absolutely loved it. What an amazing plot! Also, there's a fantastic twist I didn't see coming." - (Mis) Adventures of a Twenty-Something Year-Old Girl

"I can't even begin to tell you how smoothly the writing flows. It's perfect. No joke. I went into this book not knowing what to expect and what I got was an amazing storyline." - Words Create Scenes
We have 70+ prizes up for grabs at our
Secret Worlds Facebook party
, including multiple gift cards ranging from $5 to $100, plus a Kindle Fire!!! And the prizes just keep coming. Be sure to join the party for your chance to win these prizes and more coming down the pipeline! The party is on June 29 but the
giveaways have already begun.

70+ Prizes!
Pre-order our Limited Edition Box set for only 99 cents!

I'm very excited to be included with 20 other USA Today and Amazon Bestselling Authors in the Secret Worlds Boxed Set. Many of you are probably already familiar with my included title, THE FOREVER GIRL, but for those who aren't, here's the full blurb.
The Forever Girl
At twenty-two, practicing Wiccan Sophia Parsons is scratching out a living waiting tables in her Rocky Mountain hometown, a pariah after a string of unsolved murders with only one thing in common: her.
Sophia can imagine lots of ways to improve her life, but she'd settle for just getting rid of the buzzing noise in her head. When the spell she casts goes wrong, the static turns into voices. Her personal demons get company, and the newcomers are dangerous.
One of them is a man named Charles, who Sophia falls for despite her better judgment. He has connections that might help her unveil the mystery surrounding her ancestor's hanging, but she gets more than she bargains for when she finally decides to trust him.
***
The Forever Girl has been optioned for film and published internationally by Harlequin in Germany (now HarperCollins of Germany) and IPC Books of Hungary. It has nearly 500 Amazon reviews. Normally you can purchase my book alone for $3.99, however, for this summer only (and the pre-order period leading up to this summer) you can snag a copy of this title WITH 20 OTHER ADDITIONAL TITLES all in 1 Boxed Set for $0.99! That comes out to less than a nickel per book! You can learn more about the boxed set HERE or you can order your copy on Amazon, Barnes and Noble, Kobo, or iBooks. While you're here, though, why not take a moment to learn more about the complete line up! I've included a super short blurb of every title in the collection. Some are not yet available and being introduced exclusively through the boxed set, but ALL of the titles are professionally edited and not a single one ends on a cliffhanger!
The Secret Worlds LIMITED EDITION Collection!
***
From USA Today Bestselling Authors
Taken by the Beast by Conner Kressley and Rebecca Hamilton: Women are going missing. Women who look a lot like Charisse. And the man this beauty is falling for may be the beast responsible.


The Forever Girl by Rebecca Hamilton: Sophia's ancestor's body went missing during the Salem Witch Trials, and the only one able to help solve the mystery is a shapeshifter Sophia is afraid to trust.

Summoned by Rainy Kaye: Dimitri can't reveal the paranormal bond controlling him, and Syd won't tolerate his secrets.

Purgatory by Susan Stec: A sex-hungry myth with no name, no flesh, and no identity ...unless it wears one of you.

The Pandora Principle by Noree Cosper: As a descendant of Pandora, Cassi must discover if her lover is one of the evil spirits she hunts before all her friends die.

Heart Song by Samantha LaFantasie: When incredibly handsome Marren frees Relena, there's a catch.

From Amazon Bestselling Authors

Changeling by Debbie Herbert: As a changeling and a witch work together to restore order in Fairy, they discover that love, like magic, casts its own spell of enchantment.

Shiftless by Aimee Easterling: After years of suppressing her inner predator, Terra meets a shifter who forces her to reclaim her wilder side.

The Black Parade by Kyoko M.: Poltergeist Michael is the key to saving Jordan's soul from hell, but can she handle the cost of her salvation?

Haunting Echoes by Caethes Faron: Will Amaia's vampire clan kill her ex-fiance before she learns whether he returned from the grave for love or revenge?

Braving Fate by Linsey Hall: Diana and Cadan fight demonic forces and a deadly passion that has lasted centuries.

Trinity Rising by J.E. Taylor: Damian and Naomi are desperate for victory against the devil, but one wrong step could trigger Armageddon.

Moonlight by Katie Salidas: Good girls don't wear fur, fight over men, or run around naked, howling at the moon. But Fallon's not a good girl.

Lash by L.G. Castillo: Lash, a fallen angel, must choose where to place his trust--in a home he fought so hard to regain or in a forbidden love he can't bear to lose.

Between by Lisa Swallow: Alek could kill Rose with a kiss. Finn, with a touch. Pulled into an intense affair with Alek, Rose discovers her connection to Finn threatens them all.

The Devil's Fool by Rachel McClellan: When vampire Boaz gives Eve the one thing she never had--love--she falls into a world of greed and seduction.

Spark Rising by Kate Corcino: A runaway Spark and the agent arresting her ignite a revolution to end their people's enslavement while resisting the electricity between them.

Ruby's Fire by Catherine Stine: On the run from a desert cult, Ruby must choose which handsome stranger to trust with her heart and her darkest secret: Armonk or Blane.

Cursed by Lucy Leroux: Governess Isobel Sterling has been hiding an uncanny ability her whole life--until she has to use it to save herself from a madman.

Hunted by A.J. Colby: With Agent Holbrook's help, Riley races time to stay ahead of a crazed werewolf killer.

Vigilant by Angel Lawson: Ari stumbles into a world of crime and vigilantism while discovering the one man that sets her heart on fire.
$0.99 PreOrder Price Guarantee