Wetknee Books News
Stay tuned to blog posts by our authors below.

Not into blogging? Follow us on Facebook.

Announcing an exciting new box set that I am a part of!

From twenty-one USA Today and Amazon bestselling authors

Secret Worlds - A Steamy paranormal romance box set

Only 99 cents!

Limited Edition. Sale ends soon.

(Complete full-length books, no frustrating cliffhangers)

SECRET WORLDS
is a best-selling box set of spicy paranormal reads brought to you by USA Today and Amazon Bestselling authors! With twenty-one stories and over a million enchanting words of fiction, this box set will keep you spellbound! Dive through Secret Worlds and into the arms of heroes who will steal your heart and leave you hot.


Whether you love paranormal romance that warms you up or sets you on fire, this box set will have something to entice your preternatural sensibilities. Supernaturally thrilling and engaging, this set has it all: ghosts, vamps, mind-readers, shape-shifters, demons, faeries, beautiful hybrid creatures and more.

For a limited time you can enjoy all of these stories, including ones slated for the big screen!!! When purchased separately, these books would cost over $50! But they are yours for less than $1. Get yours before this limited time deal ends!

Pre-order Secret Worlds at Amazon, B&N, Kobo, iBooks


Summary of Ruby's Fire, my award-winning novel in Secret Worlds:


"Eighteen year-old Ruby and her little brother Thorn, have only known a life blighted by the extremist Fireseed Cult. The night Ruby is set to be claimed by one of its cruelest and oldest leaders, she makes a bid for freedom. With Thorn in tow, she stumbles into the world beyond, and finds an opportunity for a fresh start in Skull's Wrath under the guidance of Nevada Pilgrim, a woman who may not be all she seems. Ruby's new life could bring her friendship, love, even fortune, but nothing comes without a price. Is Ruby's talent for elixirs keeping the roof over their heads, or do some of her associates have a more sinister and lucrative interest in them? Life outside a strange cult isn't without its dangers, and the experience leaves Ruby transformed and communing with the Fireseed more closely than she ever would have imagined. Stine delivers a thrilling adventure led by an exciting cast of characters, and the romance is really well handled."

- YA's The Word

***Ruby's Fire was a finalist in the Next Generation Indie Awards***

"Romance, betrayal, secrets, great world-building!" - Seeing Night Reviews

"Full of creativity, imagination & original concepts" - Fluttereal Flight

"Ruby kicked butt as the resident healer, plus good love triangle!" - Amazon reader

"You know when you get a book and it's much better than you thought it was going to be? Ruby's Fire was definitely one of those books! I absolutely loved it. What an amazing plot! Also, there's a fantastic twist I didn't see coming." - (Mis) Adventures of a Twenty-Something Year-Old Girl

"I can't even begin to tell you how smoothly the writing flows. It's perfect. No joke. I went into this book not knowing what to expect and what I got was an amazing storyline." - Words Create Scenes
We have 70+ prizes up for grabs at our
Secret Worlds Facebook party
, including multiple gift cards ranging from $5 to $100, plus a Kindle Fire!!! And the prizes just keep coming. Be sure to join the party for your chance to win these prizes and more coming down the pipeline! The party is on June 29 but the
giveaways have already begun.

70+ Prizes!
Pre-order our Limited Edition Box set for only 99 cents!

I'm very excited to be included with 20 other USA Today and Amazon Bestselling Authors in the Secret Worlds Boxed Set. Many of you are probably already familiar with my included title, THE FOREVER GIRL, but for those who aren't, here's the full blurb.
The Forever Girl
At twenty-two, practicing Wiccan Sophia Parsons is scratching out a living waiting tables in her Rocky Mountain hometown, a pariah after a string of unsolved murders with only one thing in common: her.
Sophia can imagine lots of ways to improve her life, but she'd settle for just getting rid of the buzzing noise in her head. When the spell she casts goes wrong, the static turns into voices. Her personal demons get company, and the newcomers are dangerous.
One of them is a man named Charles, who Sophia falls for despite her better judgment. He has connections that might help her unveil the mystery surrounding her ancestor's hanging, but she gets more than she bargains for when she finally decides to trust him.
***
The Forever Girl has been optioned for film and published internationally by Harlequin in Germany (now HarperCollins of Germany) and IPC Books of Hungary. It has nearly 500 Amazon reviews. Normally you can purchase my book alone for $3.99, however, for this summer only (and the pre-order period leading up to this summer) you can snag a copy of this title WITH 20 OTHER ADDITIONAL TITLES all in 1 Boxed Set for $0.99! That comes out to less than a nickel per book! You can learn more about the boxed set HERE or you can order your copy on Amazon, Barnes and Noble, Kobo, or iBooks. While you're here, though, why not take a moment to learn more about the complete line up! I've included a super short blurb of every title in the collection. Some are not yet available and being introduced exclusively through the boxed set, but ALL of the titles are professionally edited and not a single one ends on a cliffhanger!
The Secret Worlds LIMITED EDITION Collection!
***
From USA Today Bestselling Authors
Taken by the Beast by Conner Kressley and Rebecca Hamilton: Women are going missing. Women who look a lot like Charisse. And the man this beauty is falling for may be the beast responsible.


The Forever Girl by Rebecca Hamilton: Sophia's ancestor's body went missing during the Salem Witch Trials, and the only one able to help solve the mystery is a shapeshifter Sophia is afraid to trust.

Summoned by Rainy Kaye: Dimitri can't reveal the paranormal bond controlling him, and Syd won't tolerate his secrets.

Purgatory by Susan Stec: A sex-hungry myth with no name, no flesh, and no identity ...unless it wears one of you.

The Pandora Principle by Noree Cosper: As a descendant of Pandora, Cassi must discover if her lover is one of the evil spirits she hunts before all her friends die.

Heart Song by Samantha LaFantasie: When incredibly handsome Marren frees Relena, there's a catch.

From Amazon Bestselling Authors

Changeling by Debbie Herbert: As a changeling and a witch work together to restore order in Fairy, they discover that love, like magic, casts its own spell of enchantment.

Shiftless by Aimee Easterling: After years of suppressing her inner predator, Terra meets a shifter who forces her to reclaim her wilder side.

The Black Parade by Kyoko M.: Poltergeist Michael is the key to saving Jordan's soul from hell, but can she handle the cost of her salvation?

Haunting Echoes by Caethes Faron: Will Amaia's vampire clan kill her ex-fiance before she learns whether he returned from the grave for love or revenge?

Braving Fate by Linsey Hall: Diana and Cadan fight demonic forces and a deadly passion that has lasted centuries.

Trinity Rising by J.E. Taylor: Damian and Naomi are desperate for victory against the devil, but one wrong step could trigger Armageddon.

Moonlight by Katie Salidas: Good girls don't wear fur, fight over men, or run around naked, howling at the moon. But Fallon's not a good girl.

Lash by L.G. Castillo: Lash, a fallen angel, must choose where to place his trust--in a home he fought so hard to regain or in a forbidden love he can't bear to lose.

Between by Lisa Swallow: Alek could kill Rose with a kiss. Finn, with a touch. Pulled into an intense affair with Alek, Rose discovers her connection to Finn threatens them all.

The Devil's Fool by Rachel McClellan: When vampire Boaz gives Eve the one thing she never had--love--she falls into a world of greed and seduction.

Spark Rising by Kate Corcino: A runaway Spark and the agent arresting her ignite a revolution to end their people's enslavement while resisting the electricity between them.

Ruby's Fire by Catherine Stine: On the run from a desert cult, Ruby must choose which handsome stranger to trust with her heart and her darkest secret: Armonk or Blane.

Cursed by Lucy Leroux: Governess Isobel Sterling has been hiding an uncanny ability her whole life--until she has to use it to save herself from a madman.

Hunted by A.J. Colby: With Agent Holbrook's help, Riley races time to stay ahead of a crazed werewolf killer.

Vigilant by Angel Lawson: Ari stumbles into a world of crime and vigilantism while discovering the one man that sets her heart on fire.
$0.99 PreOrder Price Guarantee
Secret Worlds, a best-selling boxed set of spicy paranormal reads, is brought to you by twenty-one USA Today and Amazon Bestselling Authors!
With twenty-one stories and over a million enchanting words of fiction, this paranormal romance boxed set will keep you spellbound.
Dive through Secret Worlds and into the arms of heroes who will steal your heart and leave you hot.
My novel, Changeling, included in the boxed set, is a (full-length) New Adult paranormal romance . . .

Somebody is murdering the Pixies. They've been dropping like flies in this small college town.

Skye's a teen witch who sucks at spells and is skeptical about the idea of winged Tinker Bells. But strange things have been going on at the metaphysical shop, The Green Fairy, where she works nights: black specks of movement out of the corner of her eye, mysterious buzzing noises, unidentified dragonfly carcasses in the basement, and a hidden cache of absinthe (aka fairy crack).

Kheelan is a human changeling. Raised with the fairies, he's viewed as an inferior species whose only use is to serve his kidnappers. He's been totally screwed by the Fae and his only goal in life is freedom. When he meets Skye, he sees an opportunity to escape. The last thing he needs is to be distracted by feelings for this quirky witch.

Skye stumbles upon the remains of dead fairies and is approached by Kheelan who has been sent to investigate the pixie murders. Funny thing is--he looks exactly like a part-time employee of the store who has autism. Skye falls for Kheelan, only to discover he's using her to win his freedom.

Hard to believe she's really half-fairy and has secret powers when she can never get a spell to work right. But one night, after years of painful backaches from what she thought was scoliosis, Skye discovers a pair of sprouted wings.

As Samhain, the witch's Halloween, draws near, she must make a bold move to claim her heritage and power, restore order in the fairy realm, and try to win Kheelan's freedom and love.

Absinthe, autism and augury meld into a paranormal cauldron where everything is not what it seems and the fairies are sly tricksters who can trap you in their realm.
SECRET WORLDS
Limited Edition Paranormal Romance Boxed Set
Secret Worlds, a best-selling boxed set of spicy paranormal reads, is brought to you by twenty-one USA Today and Amazon Bestselling Authors! With twenty-one stories and over a million enchanting words of fiction, including my new release The Pandora Principle, this paranormal romance boxed set will keep you spellbound. Dive through Secret Worlds and into the arms of heroes who will steal your heart and leave you hot.
PreOrder Our Limited Edition Boxed Set for $0.99
The moment Cassi's gaze locks with Mercer Chaplin's she know she has to have him. She scoffs when her best friend warns her to stay away. But maybe she should listen. When her aunt comes to reclaim her for the legacy of Pandora to hunt down the evils released by her troublesome ancestor, Cassi rebels. She's determined to get as much from her last year of college as possible, including Mercer. But he's got secrets of his own. And as she falls deeper down the rabbit hole, signs begin to suggest that Mercer could be one of those evils she's fated to hunt. Too bad Cassi can't put her heart in a box.
USA Today Bestselling Author, Noree Cosper loves writing about magic in the modern world. While growing up in Texas she constantly searched for mystical elements in the mundane. She buried her nose in both fiction and books about Wicca, Religion, and Mythology. Everyday became an adventure as she joined a group of role-players, acting out her fantasies of vampires, demons, and monsters living in the world.
She embraced her nerdom wholeheartedly.
Noree grew, but never left her love for fantasy and horror. Her dreams pushed her and her hand itched to write the visions she saw. So, with her fingers on the keys, she did what her heart had been telling her to do since childhood. She wrote.
Connect with Noree
Ready to Turn Up the Heat?
Whether you love paranormal romance that warms you up or sets you on fire, this boxed set will have something to entice your preternatural sensibilities.
Supernaturally thrilling and engaging, this boxed set has it all: ghosts, vampires, mind-readers, shapeshifters, demons, faeries, werewolves, and more.
For a limited, you can enjoy books from today's USA Today and Amazon Bestselling, including titles that are slated for the big screen!
When purchased separately, these books cost over $50! But they are yours today for less than $1.
Every selection in this rare, limited edition paranormal romance boxed set are full-length novels and novellas!
Did you ever wonder how Wolfie grew from the slightly addle-pated youngster in Bloodling Wolf to the steady, solid alpha in Shiftless? Or maybe you wished you knew more about Wade's past. Either way, my newest novelette, In Deep Shift, should answer at least some of your questions. And it's free today as a thank you for following along!

Once you're done, if you enjoyed In Deep Shift, I hope you'll consider leaving a review on Amazon and/or Goodreads. I'm trying out this one-day-freebie launch strategy, and whether or not I repeat the endeavor depends on how many reviews roll in during the first week. So, if you want to read my next book free on day one as well, don't forget to tell others what you thought of In Deep Shift!

Meanwhile, if you're reading this post on April 30 or later...I'm sorry, but you missed the flash free period! On the plus side, the novelette is priced at 99 cents and will be in Kindle Unlimited for the next 90 days, so checking it out still won't break the bank.


***



What's coming down the pike next? Well, I was hoping you'd help me decide! I always have more ideas than time to write, and there are three top contenders at the moment. If you've got a strong opinion one way or the other, I hope you'll comment and let me know which story you prefer to read first.

Option A: I thought In Deep Shift was going to be the end of Wolfie's story...but my favorite bloodling told me there's another adventure (or maybe two...) that he wants to participate in. So, Option A is another novelette that picks up where the current offering leaves off. The bonus of choosing this option is that since novelettes are only about the quarter of the length of a novel, they come out faster --- I can probably have another novelette in your hands by the middle of June.

Option B: A cat-shifter-turned-cat-burglar stole into my mind in a dream, and I haven't been able to get him out of my head since. This option would be a novel, slightly higher on the romance than Shiftless but still very much a fantastical adventure. There's a lonely veterinarian, a pre-Columbian artifact, and much more waiting to be written in this shifter novel. Estimated completion date: maybe September?

Option C: I know I left Terra hanging again, and the third novel in the series will be the dramatic conclusion. Trouble is, the plot hasn't come to me in a dream yet, so my plan at the moment is to mull over my heroine's next adventure all summer and write once the days start turning cold. If you really, really don't want to read anything except the culmination of Terra's story, though, please let me know and I'll find a way to put my thinking cap on faster!

I look forward to hearing what you think. And, as always, thanks for reading!
Errol was a war orphan, left to raise himself while his father fought in World War II and while his severely depressed mother struggled to hold together her young family.

Growing up in a backwoods town where life more closely resembled the 1920s than the 1940s, Errol hunted pennies to buy treats, surfed on borrowed skiffs behind the paddle wheels of passing river boats, and sought adult influences wherever he could find them.

Viewing this world through both a child's and an adult's eyes, Hunting Pennies offers vivid glimpses of innocence transitioning seamlessly into sophisticated efforts to find peace with the past.

With publication credits as diverse as National Public Radio's All Things Considered and Madison Review, Hess has distilled half a century of poetry into this memoir in verse, loading its pages with humor, melancholy, and a healthy dose of Huck Finn-style adventure.

Hunting Pennies is free on Amazon today, so I hope you'll consider giving it a read!

Spring is here...and so is my spring cookbook! With another dozen-plus recipes that are easy and delicious to fix using homegrown ingredients, Farmstead Feast: Spring should hit the spot. As a bonus, I've included a step-by-step guide to harvesting dandelions and taking maple syrup from tree to table, along with a quick primer on planting for a 12-month harvest.

Sound interesting? Then act fast because the book is free today only! I'm hoping to entice my kind readers to read and review quickly so the average reader (who's never heard my name) will consider taking a chance on the book. Thanks in advance if you take a minute to leave a review on Amazon or Goodreads once you're done checking out my newest book!


***


On a related note, I'm well aware that cookbooks are a bit annoying to use in ereader form. So I've made a print version of Farmstead Feast: Winter, and marked the price down to the bare minimum Amazon would allow --- $3.99. There will be a print edition of Farmstead Feast: Spring coming down the pipe soon, too, so stay tuned!

And, finally, if you're not sure whether Farmstead Feast: Winter is worth keeping on your shelf, come back to Amazon tomorrow and the ebook will be free for a limited time. I hope that helps you round out your cookbook collection. And, as always, thanks for reading!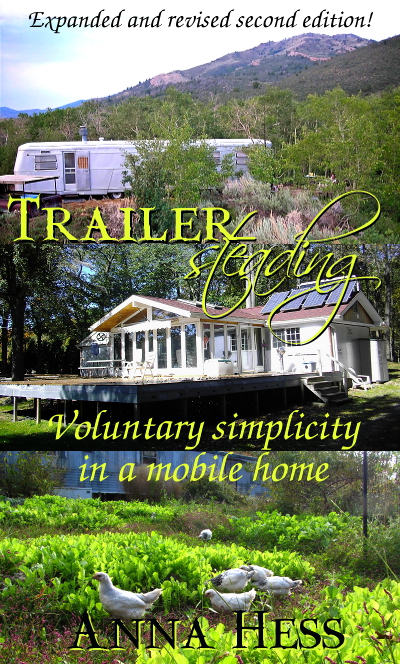 Trailersteading
began as a joke, turned into an inspiration for aspiring homesteaders, and now --- in its expanded second edition --- the ebook contains dozens of pages of additional hands-on information to help turn that inspiration into a reality.

Even if you don't want to live in a mobile home, this book contains step-by-step instructions for replicating some of our permaculture systems, like treating greywater in a wetland that provides beautiful wildlife habitat and also grow cattails for the table.

There are sections on rain barrels and humanure, along with thirteen case studies of homesteaders who have embraced voluntary simplicity in a mobile home.

And, of course, if you think a trailer might be in your future, the book will be even more helpful with tips on insulating, fire-proofing, and much more.
Trailersteading usually goes for $5.99, but it's on sale right now for 99 cents. So snag your copy and enjoy!
Amazon is a fun and easy environment where most independent authors learn to swim. But, eventually, many of us grow out of the Amazon kiddie pool and go wide, making our books available on retailers other than Amazon. Unfortunately, the waters of Google, iTunes, and so forth are dark and shark infested, and we enter those strange seas with some trepidation. Perhaps you'll ease my fright by spending five minutes helping me gain traction at the new e-retailers?

The most important way to gain a toehold at any e-retailer is reviews, and many of you have kindly written reviews of my books on Amazon in the past. Now I'm hoping you'll help me out one more time by copying and pasting your reviews to the new retailers. And, to sweeten the pot, I'm providing free Smashwords codes for each book in my Wolf Rampant series so you can download a copy and read if you haven't already. Here are the retailer links for each book:

Bloodling Wolf:

Shiftless:

Pack Princess:
I definitely don't expect you to copy your reviews over to every site, but if you already have an account at Barnes & Noble, iTunes, Google, or Kobo, those are my top priority. Thank you in advance for helping me learn to tread water in the wider, darker ocean beyond Amazon!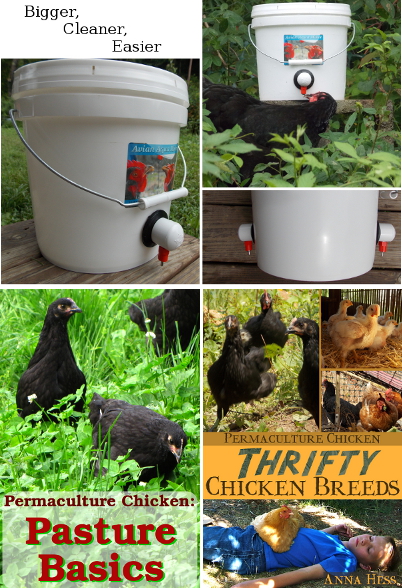 Newly hatched chicks will be hitting our post office this week, and to celebrate I'm giving our readers a chance to stock up on chicken supplies at little or no cost. First, don't miss Pasture Basics, which is free on Amazon today. The book is full of everything I've learned about rotational chicken pasturing over the last few years and should help prevent the smelly, brown chicken runs I often see on others' farms.

The second book, Thrifty Chicken Breeds, is marked down to 99 cents today. This companion ebook picks up where Pasture Basics leaves off and helps you choose the right type of chicken to put on your new pasture.

And, to make this a true chicken-giveaway week, one lucky reader will walk away with a free premade EZ Miser, our favorite type of waterer for pastured poultry. Just share why you want an EZ Miser (or why you love the Avian Aqua Miser or EZ Miser you've already got) on facebook, twitter, or google plus, click on the giveaway widget below, and you'll be entered to win!