Wetknee Books News
Stay tuned to blog posts by our authors below.

Not into blogging? Follow us on Facebook.

Spring is here...and so is my spring cookbook! With another dozen-plus recipes that are easy and delicious to fix using homegrown ingredients, Farmstead Feast: Spring should hit the spot. As a bonus, I've included a step-by-step guide to harvesting dandelions and taking maple syrup from tree to table, along with a quick primer on planting for a 12-month harvest.

Sound interesting? Then act fast because the book is free today only! I'm hoping to entice my kind readers to read and review quickly so the average reader (who's never heard my name) will consider taking a chance on the book. Thanks in advance if you take a minute to leave a review on Amazon or Goodreads once you're done checking out my newest book!


***


On a related note, I'm well aware that cookbooks are a bit annoying to use in ereader form. So I've made a print version of Farmstead Feast: Winter, and marked the price down to the bare minimum Amazon would allow --- $3.99. There will be a print edition of Farmstead Feast: Spring coming down the pipe soon, too, so stay tuned!

And, finally, if you're not sure whether Farmstead Feast: Winter is worth keeping on your shelf, come back to Amazon tomorrow and the ebook will be free for a limited time. I hope that helps you round out your cookbook collection. And, as always, thanks for reading!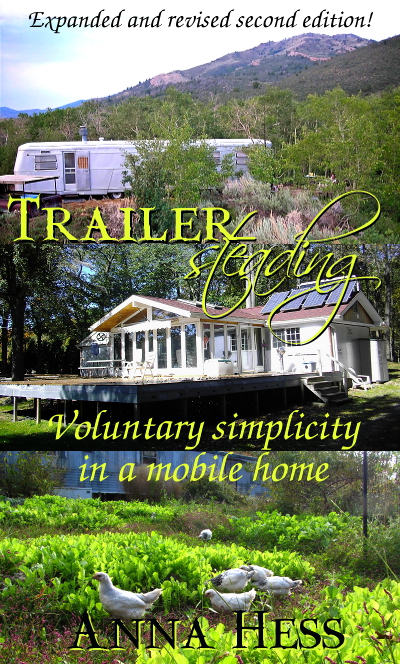 Trailersteading
began as a joke, turned into an inspiration for aspiring homesteaders, and now --- in its expanded second edition --- the ebook contains dozens of pages of additional hands-on information to help turn that inspiration into a reality.

Even if you don't want to live in a mobile home, this book contains step-by-step instructions for replicating some of our permaculture systems, like treating greywater in a wetland that provides beautiful wildlife habitat and also grow cattails for the table.

There are sections on rain barrels and humanure, along with thirteen case studies of homesteaders who have embraced voluntary simplicity in a mobile home.

And, of course, if you think a trailer might be in your future, the book will be even more helpful with tips on insulating, fire-proofing, and much more.
Trailersteading usually goes for $5.99, but it's on sale right now for 99 cents. So snag your copy and enjoy!
Amazon is a fun and easy environment where most independent authors learn to swim. But, eventually, many of us grow out of the Amazon kiddie pool and go wide, making our books available on retailers other than Amazon. Unfortunately, the waters of Google, iTunes, and so forth are dark and shark infested, and we enter those strange seas with some trepidation. Perhaps you'll ease my fright by spending five minutes helping me gain traction at the new e-retailers?

The most important way to gain a toehold at any e-retailer is reviews, and many of you have kindly written reviews of my books on Amazon in the past. Now I'm hoping you'll help me out one more time by copying and pasting your reviews to the new retailers. And, to sweeten the pot, I'm providing free Smashwords codes for each book in my Wolf Rampant series so you can download a copy and read if you haven't already. Here are the retailer links for each book:

Bloodling Wolf:

Shiftless:

Pack Princess:
I definitely don't expect you to copy your reviews over to every site, but if you already have an account at Barnes & Noble, iTunes, Google, or Kobo, those are my top priority. Thank you in advance for helping me learn to tread water in the wider, darker ocean beyond Amazon!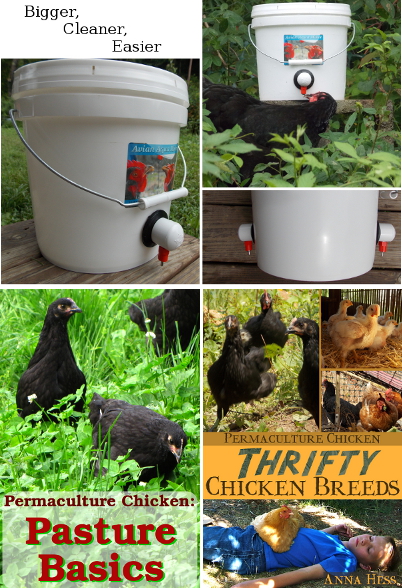 Newly hatched chicks will be hitting our post office this week, and to celebrate I'm giving our readers a chance to stock up on chicken supplies at little or no cost. First, don't miss Pasture Basics, which is free on Amazon today. The book is full of everything I've learned about rotational chicken pasturing over the last few years and should help prevent the smelly, brown chicken runs I often see on others' farms.

The second book, Thrifty Chicken Breeds, is marked down to 99 cents today. This companion ebook picks up where Pasture Basics leaves off and helps you choose the right type of chicken to put on your new pasture.

And, to make this a true chicken-giveaway week, one lucky reader will walk away with a free premade EZ Miser, our favorite type of waterer for pastured poultry. Just share why you want an EZ Miser (or why you love the Avian Aqua Miser or EZ Miser you've already got) on facebook, twitter, or google plus, click on the giveaway widget below, and you'll be entered to win!


It's here! The Naturally Bug-Free Garden has hit bookstores at last!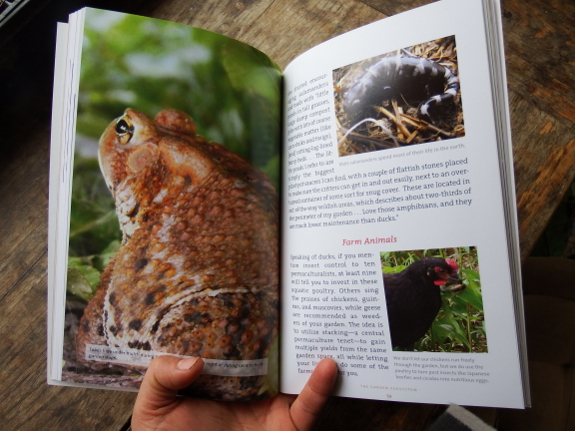 If you want a copy of your very own, you can order from any of these retailers (or hit a bricks-and-mortar store and ask for a copy):

Want a free paperback? Head over to my other blog and join the treasure hunt for a chance to win a free copy. I hope you enjoy my most colorful book to date!
Our newest release comes from Errol Hess, one of the founding editors of Sow's Ear Magazine and an award-winning author who has been published in Madison Review and many other journals. His debut book, Sapling Grove Secrets, compiles four short stories that remind me of a mixture of Wendell Berry and O. Henry. I hope you enjoy reading them as much as I did!

To sweeten the pot and to prompt you to try out an author you haven't read before, I've set Sapling Grove Secrets free today on Amazon. So snag your copy now, and if you like what you read, please consider leaving a short review when you're done. Thanks in advance for giving the book a try!
Now's your chance to catch up on Terra's adventures for only $1.98! The first novel in the series, Shiftless, is free today; the second novel, Pack Princess, is marked down to 99 cents; and the prequel short story, Bloodling Wolf, is available at its normal low price of 99 cents. I hope you enjoy the ride!

While I'm on the subject, I'm not sure I ever mentioned that Bloodling Wolf is also available as an audiobook. Douglas Thornton's excellent narration makes Wolfie's childhood come alive, and I'm already thinking of new stories to tell from Wolfie's point of view specifically so that Douglas can keep his hand in the series. You owe it to yourself not to miss his excellent performance!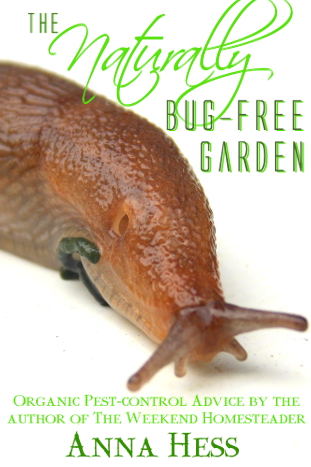 Many believe that Amazon sells 67% of ebooks in the U.S., and they also provide several perks for authors who choose to subscribe to KDP Select and eschew all other retailers. On the other hand, different types of readers tend to flock to different platforms, with Canadian readers largely preferring Kobo, for example. Similarly, niche books may reach their audience better on retailers other than Amazon, and many authors have found that non-Amazon customers are willing to pay more for books. Finally, how can you know whether your core readers are all hanging out on iTunes or Google Play unless you give those sites a try?

For all of these reasons, I'm currently experimenting with moving two of my ebooks out of the KDP Select program --- "going wide" as some authors say. You can now download The Naturally Bug-Free Garden on:

And Permaculture Chicken: Incubation Handbook is available on:

On the other hand, going wide does have growing pains that reach beyond formatting your book to match each retailer's standards. One of the issues with going wide is that you spread out your readers, which makes it harder to move up the bestseller lists. In addition, indie authors have a harder time breaking into some of the other sites (although reports are that Kobo is very indie-author friendly).

Maybe you'd be willing to help me out? Since reviews on a book make readers much more likely to take the purchase plunge, I'm currently begging for anyone who's read either of these books to copy and paste your review over onto some of the other retailer sites. And I'm even offering limited-time free copies (and a bonus prize!) for those of you who haven't read the two titles in the past. Head on over to my other blog for details, and thanks in advance for helping me gain traction on non-Amazon sites!

Those of you who read my other blog will know that I'm a cheapskate. I also read like crazy, averaging about four books a week, and our tiny local library can't keep up.

Do I pay full-price for all those books? Nope, in fact most of the books I download are free on Amazon, and I'm generally too lazy to troll the free lists in search of my daily fix. Instead, I rely on book newsletters to alert me to free and sale books to feed my appetite.

My favorite service is Bookbub, although after nearly a year's subscription, I'm starting to see the same books roll around again, leaving me with fewer titles to choose from. Buck Books is one of the new kids on the block that I'm trying out to fill in the gap, and so far I've enjoyed their variety (although the hip descriptions aren't quite my cup of tea). I even decided to list $10 Root Cellar with Buck Books today to try the service out from the author side while the book is marked down to 99 cents.

I'd be curious to hear from other voracious readers. If you're also saddled with a library with limited selection, how do you find your reading matter? Do you have favorite ebook newsletters you'd like to share?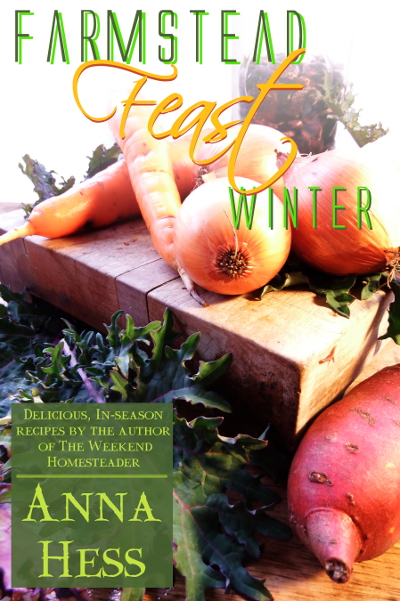 Farmstead Feast: Winter is now live! I've the new title to the introductory price of 99 cents and have made it free for subscribers to Kindle Unlimited, so hopefully you'll consider giving it a shot.

The book is full of nearly a decade spent experimenting with real, homegrown food, from tough cuts of venison to fresh kale salads. Every recipe in this book not only passes the local test, it also passes the husband test (meaning that he asked for seconds...and thirds!).

I hope you and your family enjoy these recipes as much as we did, and if you do, please consider writing a review. Your kind words tempt others to take a chance on a new book. Thanks in advance for taking the farmstead-feast plunge!