Wetknee Books News
Stay tuned to blog posts by our authors below.

Not into blogging? Follow us on Facebook.

The third book in my soil series is now live and the fourth book is up for preorder! I hope you'll take a chance on a series that has been described as "Easy, useful, and homestead tested."

Without further ado, here are the links to book 3, Balancing Soil Nutrients and Acidity:

And here are the links to book 4, Soil Amendments for the Organic Garden:

Thanks so much for reading! And if you enjoy my ebooks, I hope you'll consider taking the time to write a brief review. Your social proof helps strangers decide to take a chance on a new author and gives me the leisure to share my experiences with you every day on my blog. I appreciate having you along for the ride!

Just a bit of random book news today. First, Trailersteading is now available on all major retailers in ebook form (as well as on paper in bookstores, libraries, and more). Here are some links in case you've been waiting to find this crowd favorite somewhere other than on Amazon:

Second, look --- a pretty new cover for The Ultimate Guide to Soil! I also just got word from my publisher that this book is going to be translated into German, where it will be sold by Mobiwell Verlag. Fun, huh?


My newest book, Half Wolf, is now live on Amazon and free to borrow via Kindle Unlimited!

This book is the first in a spinoff series, with a few of the same characters who readers loved from the Wolf Rampant trilogy but with an entirely new adventure. Round two is even more action-packed, romantic, and character-driven than round one. So why not give it a try?

Don't have Kindle Unlimited or three bucks to buy a copy? You can also try your hand at winning a copy via this Amazon Giveaway. Good luck, and I hope you enjoy the ride!

"Real techniques for real people" and "informational, actionable, and written in a down-to-earth tone that is easy to read and understand" --- that's how early readers are describing Small-Scale No-Till Gardening Basics. This second book in my soil series left the preorder period this morning and is now available for immediate download on:

Meanwhile, if you've already tried book two and enjoyed it, I wanted to alert you to my fan-only two-day sale on the third book in the series. Balancing Soil Nutrients and Acidity just went up for preorder and you can nab it at 99 cents today or tomorrow before it goes up to its real price of $2.99. So if you want to learn about the science behind remineralization, along with information on how to mitigate soil deficits and problematic pH using chemicals, cows, goats, chickens, mushrooms, cover crops, dynamic accumulators, and more, then here are the links for you:

Thank you so much for reading! You are why I write.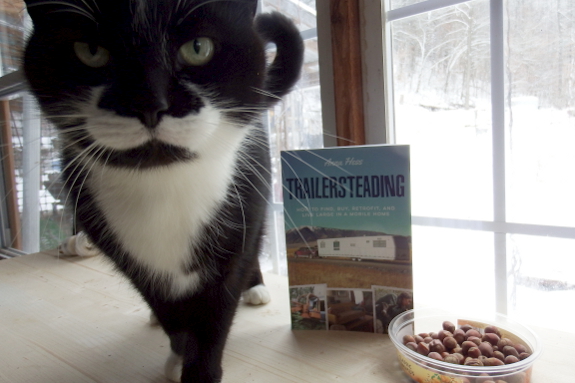 The print edition of Trailersteading is now live and I've been amazed at how well this book has been received. After all, I originally envisioned it as a bit of a joke. Why would anyone want to learn about our choice to homestead in a dirt-cheap mobile home when they could dream about strawbale houses or cob domiciles?


What I didn't expect was the 150+ five-star reviews from homesteaders just like me who were itching for a less expensive and time-consuming alternative to the traditional path of home ownership. Readers called the book "new and exciting," "a groundbreaking literary effort," and "very informative," while several mentioned that Trailersteading had inspired them to retire early by embracing life within an old mobile home.

Want to see what all the fuss is about? Trailersteading should now be available at your local bookstore or library --- if not, just ask them to order a copy. And the book is also up for purchase on your favorite online retailers, whether that's Amazon, Barnes & Noble, or someplace else.

I hope you enjoy the read, and a huge thank-you to everyone who has already given it a shot! Your early purchases and reviews help my books get out of the gate and ensure that Mark and I can continue to spend our time regaling you with our hopes, failures, and successes from the tranquility of our permaculture trailerstead. Thank you for helping to make our dreams a reality.


I'm excited to announce that I have a new website all my own! I'll be blogging about book recommendations, my inspirations, and (of course) my own publishing news. I hope you'll go check it out and let me know what you think.

The final book in the Bloodling Serial, Hair Apparent, is now live! Or, for those of you who've been waiting for the series to end before diving in, you can now read the entire novel-length tale in a single bundle while saving two bucks.

If you've enjoyed Terra's world, I think you'll enjoy this story about a werewolf who was born in lupine form and never quite got the hang of his humanity just as much. But don't take my word for it. Here's what a few reviewers have had to say about the series:

"Tense, sexy, focused" --- Claudia King

"Couldn't be better!" --- CaroChel

"I wanted to know more about Wolfie and this serial made that happen. My whole understanding of Wolfie has changed since reading this along with my appreciation for the Wolf Rampant series." --- Megan

Ready to read? As usual, you can consume either the individual installments or the entire bundle for free with Kindle Unlimited. Then, if you enjoy it, I hope you'll consider leaving a review since your kind words keep me writing (and help other readers decide to take a chance on an unknown author). Thank you so much for your help!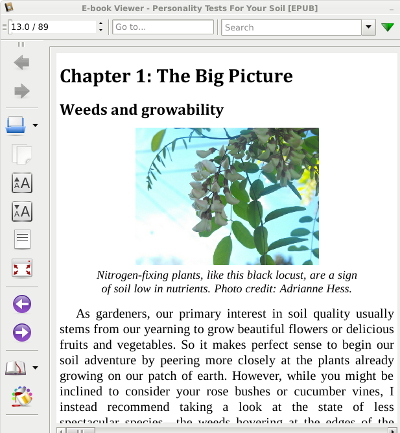 I'm excited to announce that Personality Tests For Your Soil is now live on:

This first volume in my soil series covers hands-on tests you can use to learn about your own particular plot of earth. This is the time of year when gardeners start itching for a way to get their hands dirty, so hopefully the projects in Personality Tests for Your Soil will fill that gap while also helping to ensure that the 2016 garden year will be your best one yet.

Meanwhile, the second installment --- Small-Scale No-Till Gardening Basics --- delves even deeper into the hands-on tricks we use on our own farm to turn soil black and keep veggies happy. Once again, I'm giving you a chance to nab a copy during the first week of preorder for 99 cents:

I hope you'll consider giving one or both a shot. And if you try out a copy and like what you read, I'll be eternally grateful if you leave a review, loan the ebook to a friend, or otherwise spread the word. Your support makes all the difference and ensures I have time to keep pushing out homesteading how-tos to make your projects a little easier and your garden days brighter. Thank you so much for reading what I write!
If you're like me, you had a great holiday, but you're in serious need of some good books to decompress after all the friend-and-family excitement. Wolfie's glad to oblige.

The fourth installment in his serial, Feint of Heart went live today. This winter's tale should keep you on the edge of your seat, and it's FREE in Kindle Unlimited.

Meanwhile, the final episode of Wolfie's adventure, Hair Apparent, will be live in two weeks and is up for preorder now. And if you've been waiting on the bundle (save two bucks!), then that title is available for preorder now too.

I hope you enjoy the rest of Wolfie's adventure. As usual, you'll be doing me a huge favor if you take the time to leave a review on Amazon, Goodreads, or your blog. Or just tell a friend --- those word-of-mouth recommendations are pure gold for the indie author. Thank you so much!

The Bloodling Serial is nearly complete! Here's what a few reviewers had said about the first episodes:

"Couldn't Be Better!" --- CaroChel

"I'm hooked!" --- S

"What a different shift on the typical shifter book!" --- MandalynnJDG

If you missed them, the first two episodes are available here and here. Now Two Scents' Worth is live, with the final two installments due out on December 28 and January 11, respectively. Enjoy!

View older posts in our
archives
or

Powered by Branchable.