Wetknee Books News
Stay tuned to blog posts by our authors below.

Not into blogging? Follow us on Facebook.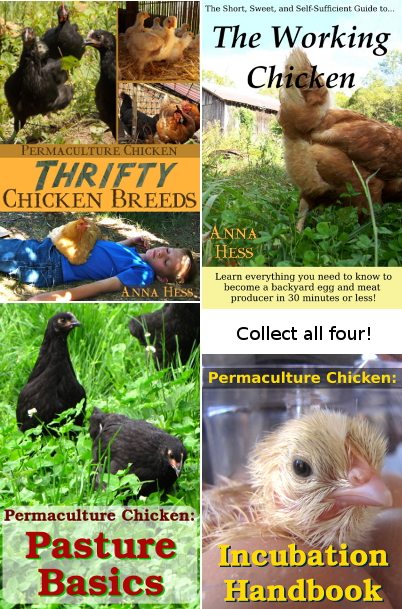 The chicken-lovers among you will be thrilled to hear that I'm celebrating Thanksgiving early by putting my chicken books on sale! But before you go nodding off, you can get the first book without plunking down a cent --- The Working Chicken is currently free on Smashwords and at Barnes & Noble. Find out why hard-nosed homesteaders don't name their chickens and much more in this photo-rich introduction to backyard chicken care.

If that introduction tempts your appetite, my more in-depth series, Permaculture Chicken, includes three books bound to make your chicken-keeping adventure run more smoothly. And each ebook is marked down to 99 cents this week --- buy them all and save 74%! Here are the links: Permaculture Chicken: Incubation Handbook, Pasture Basics, and Thrifty Chicken Breeds. Maybe next year you can grow your own free-range chicken for Thanksgiving!

Thanks for reading! And if you like what you read, why not make my day by leaving a review?

NaNoWriMo has been a very good nudge for me so far, with 62% of the rough draft of Pack Princess (the sequel to Shiftless) now complete! And, to celebrate, I commissioned this lovely cover from Skylar Faith. That's "Trouble" pictured, for those of you reading along at home. No preorder link yet, but I'm hoping to have the finished product ready for you to enjoy by New Year's, if not a little sooner.

In other book news, I'm excited to announce that Bloodling Wolf will soon be available in audio format! The excellent Douglas Thornton has nailed Wolfie's voice, adding a layer of verisimilitude to the story that I didn't even know existed. Click here to download his audition and enjoy the first few minutes of the tale.

Thanks for everyone's help getting Despite the Gentleman's Riches off to a good start so I could stop obsessing over my last novel's rankings and could move on to writing the next story on my list! Your kind words keep me writing.

Aimee's newest novel, Despite the Gentleman's Riches, is now live! Here's what a couple of early readers had to say:


"I read the whole book in one sitting because I could not leave it unfinished." — Sharon H. McConathy
"This book is staying on my Kindle as a 'LOVED' story, and I will re-read again and again." — S. Chia

I won't bore you with the details since you can read all about Ginny and her not-quite-magical apple tree over on Amazon. But I will mention that the book is enrolled in KOLL, so you can borrow for free if you subscribe to Amazon Prime or Kindle Unlimited. And the launch price is only 99 cents, so even if you have to pay full price, it's pretty cheap at the moment!

If you're still in love with reading on paper, the paperback version of Despite the Gentleman's Riches is also on sale for under five bucks. Amazon determines discounts on physical books, so I can't say how long that will last --- I recommend snagging your copy now if you want one.

No matter which format you choose, I hope you enjoy this sweet billionaire romance as much as I did!

I'm getting a late start on this post, which is a benefit for you because I can link to the other reviews going up today across the Paranormal Blog Tour world! Sara posted a very kind review of Shiftless, Marilyn embarked on the first book in S.N. Graves' serial, and S.N, Graves followed suit with a fascinating review of Isabel and the Wolf.

As for me, I picked up Xoe, aptly subtitled "Or Vampires, and Werewolves, and Demons, oh my!" and ripped through it. Here's the blurb:


Xoe Meyers has a normal life. She's stuck going to high school, and she only has a few friends to call her own.

But even though she likes her normal life, things are about to change. A new guy has come to town, and he's anything but normal.

Before Xoe can say, "Werewolf," her best friend's life is in peril, and Xoe's world is turned upside-down. Can she trust another new guy who promises to come to her aid?


If you enjoyed Twilight, then Xoe will be right up your alley with a strong heroine suddenly thrust into a paranormal adventure. There's plenty of unique world-building to distinguish between the two books, though, and Xoe is very different from Bella, so you definitely won't be bored. I don't want to give much away, but will say that the ebook is currently free, so why not pick it up and give it a try? Perhaps, like me, you'll soon move on to book two.

I'm excited to be part of the 2014 Paranormal Romance Blog Tour! And you should be excited too because it means the possibility of getting free books and other goodies. Here are the other participants:

Marilyn Vix Beware of the Warlocks Series Website/Blog: http://marilynvix.com

Marilyn is offering a free Smashwords code for the first book in her series, Never Marry A Warlock. The code is UB92D and is good through Halloween.

She also has a giveaway running with prizes ranging from free ebooks to gift cards. Be sure to enter!

S.N. Graves Look Back in Anger Series Blog: http://disturbedgraves.blogspot.com
Sara C. Roethle Xoe Website/Blog: http://saracroethle.com/
Ariana Hawkes Isabel and the Wolf Facebook: https://www.facebook.com/ArianaHawkes
What about me? Bloodling Wolf is still free today for those of you who want immediate gratification, and I'm also giving away three audiobook copies of Shiftless --- use the widget at the end of this post to enter. And be sure to stay tuned for more fun here and on the other participants' blogs all week long!

The audio version of Shiftless is here! Getting to listen to my favorite werewolves brought to life by a trained voice actor was a revelation, and I hope you enjoy the result as much as I enjoyed taking part in its creation. Here are some relevant links:

You can listen to the first five minutes for free here.
The audio version of

Shiftless

is already available on Amazon and Audible. The audiobook hasn't linked up with the print book and ebook yet, though, so you don't yet see the reduced price that will be available if you've already bought

Shiftless

in another form. But you

can

get the audiobook free with Audible's free trial (from either site) if you aren't a member.

The audiobook should be on iTunes soon!
You can read about my experiences going audio here. (Most handy for authors who'd like to follow my lead.)

What's coming next on the audio frontier? As one of my reviewers commented, Bloodling Wolf really should be an audiobook as well, especially since it's short enough that the audiobook would be pretty cheap. I polished the short story (adding another thousand words in the process...oops) and will be looking for narrator auditions on that story soon. In the meantime, if you haven't read the prequel short story yet, it's free on Amazon today --- enjoy!

Aimee's had a lot of book news lately, while I've been busy getting in the fall garden (and bringing home new goats!). Things have been happening on the writing front, though. First of all, the paperback version of The Naturally Bug-Free Garden is now available for preorder, and will be in your hands by the beginning of March! It's currently marked down to $11.39, a steal since the book is overflowing with full-color photos. Preorder now and you'll be among the first to enjoy my permaculture insect-prevention wisdom on paper!

In the meantime, I've got some immediate gratification for you to enjoy this week, with a free ebook download and another ebook on sale at half price:

Low-Cost Sunroom shows you how to build a greenhouse add-on for less than $15 per square foot! Complete with building diagrams, an explanation of sun angles, and more, you can download today for free!

But what do you do with all of those potatoes and carrots that are currently coming out of the garden by the wheelbarrow load? $10 Root Cellar explains how to turn a junked fridge into a simple root-storage device, and also includes tips on other storage options, on growing roots, and on feeding roots to livestock. Catch it at half price this week!

Thanks in advance for downloading, and you'll make my day if you tell a friend (or share on facebook, twitter, etc.)! Your shares are what help my books pay the bills...which gives me more time to write.

Just a quick note to let you know that Burgling the Dragon is now live on Amazon for immediate download! You can also borrow the title for free if you're enrolled in Kindle Unlimited or Amazon Prime (and I strongly encourage borrows --- they're great for both writers and readers). You've also still got a few hours left to win a free paperback copy, so go spread the word!

Here are some early reviews:

"...A delightful, well-written book that even though written for young people (per the author) can be enjoyed by all ages. It is a magical tale of trust and loyalty and what it means to be family." --- Sharon McConathy

"Wish this book had been around when I was a kid. I can't wait till I see him to read it to my great grandson. The story is unique, full of surprises, and consistently entertaining. Books such as this one created in me a love of reading which has never left. Highly addictive." --- Errol Hess

Your buys and borrows (and reviews!) during launch week make a huge difference in the life of a book, so thanks in advance for all your help! And I hope you enjoy the story as much as I did.

Coming soon...

Despite the Gentleman's Riches --- A Sweet Billionaire Romance

This book started out with a story my husband brought home from the grocery store and has turned into a tribute to his favorite saying: "Sex, food, and money make or break a relationship." If you were intrigued by Lena's brother in Flight of the Billionaire's Sister, now's your chance to follow along as Jack finds his perfect mate.

This warmly sensual romance ends with a happily ever after and is on sale during the preorder period for only 99 cents! I've set the launch date to December 19 because Amazon gets very, very cranky if you don't meet your preorder deadline, and I didn't want to have to stress about it. But my unofficial goal is to have the finished ebook in readers' hands by Halloween (or mid-November at the latest). I hope you'll consider checking it out!

Lots of excitement has been going on behind the scenes while Aimee plugs away at her upcoming billionaire romance (title, cover and preview page to be announced soon).

In addition to the news Aimee mentioned in her last post, Burgling the Dragon will soon be available on paper, and one lucky reader will be taking home a signed copy!

Use the widget below to enter, and good luck!











a Rafflecopter giveaway