Wetknee Books News
Stay tuned to blog posts by our authors below.

Not into blogging? Follow us on Facebook.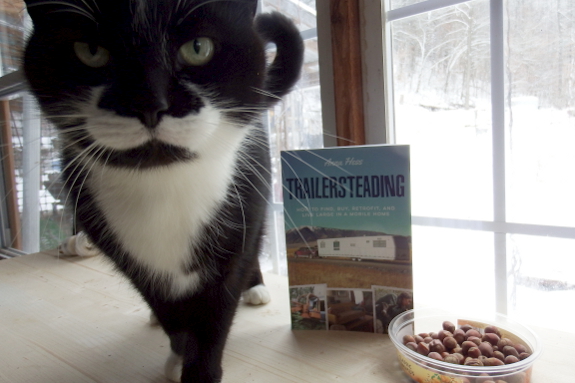 The print edition of Trailersteading is now live and I've been amazed at how well this book has been received. After all, I originally envisioned it as a bit of a joke. Why would anyone want to learn about our choice to homestead in a dirt-cheap mobile home when they could dream about strawbale houses or cob domiciles?


What I didn't expect was the 150+ five-star reviews from homesteaders just like me who were itching for a less expensive and time-consuming alternative to the traditional path of home ownership. Readers called the book "new and exciting," "a groundbreaking literary effort," and "very informative," while several mentioned that Trailersteading had inspired them to retire early by embracing life within an old mobile home.

Want to see what all the fuss is about? Trailersteading should now be available at your local bookstore or library --- if not, just ask them to order a copy. And the book is also up for purchase on your favorite online retailers, whether that's Amazon, Barnes & Noble, or someplace else.

I hope you enjoy the read, and a huge thank-you to everyone who has already given it a shot! Your early purchases and reviews help my books get out of the gate and ensure that Mark and I can continue to spend our time regaling you with our hopes, failures, and successes from the tranquility of our permaculture trailerstead. Thank you for helping to make our dreams a reality.


I'm excited to announce that I have a new website all my own! I'll be blogging about book recommendations, my inspirations, and (of course) my own publishing news. I hope you'll go check it out and let me know what you think.

The final book in the Bloodling Serial, Hair Apparent, is now live! Or, for those of you who've been waiting for the series to end before diving in, you can now read the entire novel-length tale in a single bundle while saving two bucks.

If you've enjoyed Terra's world, I think you'll enjoy this story about a werewolf who was born in lupine form and never quite got the hang of his humanity just as much. But don't take my word for it. Here's what a few reviewers have had to say about the series:

"Tense, sexy, focused" --- Claudia King

"Couldn't be better!" --- CaroChel

"I wanted to know more about Wolfie and this serial made that happen. My whole understanding of Wolfie has changed since reading this along with my appreciation for the Wolf Rampant series." --- Megan

Ready to read? As usual, you can consume either the individual installments or the entire bundle for free with Kindle Unlimited. Then, if you enjoy it, I hope you'll consider leaving a review since your kind words keep me writing (and help other readers decide to take a chance on an unknown author). Thank you so much for your help!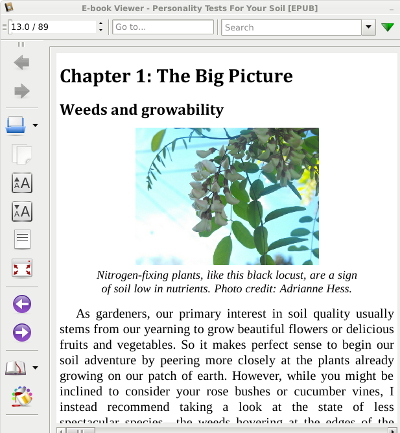 I'm excited to announce that Personality Tests For Your Soil is now live on:

This first volume in my soil series covers hands-on tests you can use to learn about your own particular plot of earth. This is the time of year when gardeners start itching for a way to get their hands dirty, so hopefully the projects in Personality Tests for Your Soil will fill that gap while also helping to ensure that the 2016 garden year will be your best one yet.

Meanwhile, the second installment --- Small-Scale No-Till Gardening Basics --- delves even deeper into the hands-on tricks we use on our own farm to turn soil black and keep veggies happy. Once again, I'm giving you a chance to nab a copy during the first week of preorder for 99 cents:

I hope you'll consider giving one or both a shot. And if you try out a copy and like what you read, I'll be eternally grateful if you leave a review, loan the ebook to a friend, or otherwise spread the word. Your support makes all the difference and ensures I have time to keep pushing out homesteading how-tos to make your projects a little easier and your garden days brighter. Thank you so much for reading what I write!
If you're like me, you had a great holiday, but you're in serious need of some good books to decompress after all the friend-and-family excitement. Wolfie's glad to oblige.

The fourth installment in his serial, Feint of Heart went live today. This winter's tale should keep you on the edge of your seat, and it's FREE in Kindle Unlimited.

Meanwhile, the final episode of Wolfie's adventure, Hair Apparent, will be live in two weeks and is up for preorder now. And if you've been waiting on the bundle (save two bucks!), then that title is available for preorder now too.

I hope you enjoy the rest of Wolfie's adventure. As usual, you'll be doing me a huge favor if you take the time to leave a review on Amazon, Goodreads, or your blog. Or just tell a friend --- those word-of-mouth recommendations are pure gold for the indie author. Thank you so much!

The Bloodling Serial is nearly complete! Here's what a few reviewers had said about the first episodes:

"Couldn't Be Better!" --- CaroChel

"I'm hooked!" --- S

"What a different shift on the typical shifter book!" --- MandalynnJDG

If you missed them, the first two episodes are available here and here. Now Two Scents' Worth is live, with the final two installments due out on December 28 and January 11, respectively. Enjoy!

Are you done reading Beyond Secret Worlds already? If so, I've got several opportunities for free and cheap books to share today.

First, if you're willing to pay a buck per book, there's a massive science fiction and fantasy sale going on today only. Choose from over 80 titles (or just peruse the pretty covers) here.

I haven't read most of the offerings, but can heartily recommend J.A. Cipriano's Ward Breaker if you want a unique paranormal ride that hits the ground running and doesn't let up until the bitter end. (The title is free with Kindle Unlimited too.)

Meanwhile, if you're willing to wait until tomorrow, the first book in my Wolf Rampant series will be FREE for most of this week. Here's the link just in case you haven't read Shiftless yet.

Next, if you'd like a free Kindle Fire or just need some holiday cash, you'll want to check out this giveaway. Everyone gets one no-work entry, and you can rack up several more by telling your friends about the box set I'll be part of in January.

Thanks for reading!
I've been incommunicado for a while, but that doesn't mean I haven't been hard at work. Recently, I've been spending a lot of time organizing an anthology of paranormal short stories and novellas. Beyond Secret Worlds is now live and FREE on all platforms. Here are the links:

Barnes and Noble is still publishing, so check there in a day or two if they're your retailer of choice

My contribution to the collection follows Fen during her first experience living as an outpack drifter, when she was nineteen years old and not yet tough as nails. I hope you enjoy the story...and if you do, you'll make my December complete if you take a few minutes to leave a review on Amazon, Goodreads, or the retailer of your choice.

Meanwhile, don't miss the rest of the book, which is chock full of paranormal fun of all heat levels. There's a post-apocalyptic Black Friday adventure, a one-night-stand with a werewolf, and much more. I think you'll enjoy the ride!


***


Meanwhile, I have several novelettes coming down the pike as well. My initial goal was to wrap up all of the loose ends in Wolfie's back story in his third novelette, but I soon found that bloodling heartthrobs don't respond well to being led. I think he must have used his alpha compulsion on me, because before I knew it I'd outlined three more tales to let Wolfie really enjoy his day in the sun.


Rather than eking these out between novels, I decided to just go with the flow and live in Wolfie's world for a month. So I'll be releasing novelettes at two-week intervals until they're all done. (I hope he lets me go after five!) Two Scents' Worth will be hitting Amazon in a week or so, followed soon thereafter by Feint of Heart and Hair Apparent.

(Yes, Wolfie refused to allow me to name the next novelette Wolf Brain the way I'd planned. I tried to tell him he was misspelling his titles too. He didn't listen. It's been a tough autumn.)

So, the good news is that you're going to get several new stories soon. The bad news is that I'm going to bug you about new releases more frequently for a while. If you hate short stories/novelettes/serials, I apologize and hope you won't give up on me. Fen's novel is also in the works for release in early 2016. Stay tuned!

Print books take quite a while to come down the pike even after I finish polishing every last word. But ebooks are faster. So I decided to launch my upcoming soil book in ebook format a quarter at a time, with the first installment hitting ereaders in early January.

Personality Tests for Your Soil includes fun and easy ways to gauge the health of your soil. You'll measure carrots, play with mud pies, and assess your weeds to get a big-picture idea of what's right or wrong with your dirt. Then follow my tips to figure out which soil tests --- if any --- are necessary to bring your garden to the next level of ecosystem health.

Sound interesting? Here are the links:

And to give you an incentive to preorder early, I've set the price to 99 cents for the first week. So snag a copy now while it's cheap, and thanks in advance for reading!
Do you need a treat? Finn from Jaguar at the Portal begged me to let him take Ixchel on an after-hours date in an art museum. And once the short story was completed, I realized that it would totally spoil Jaguar at the Portal if you hadn't read the novel first.

So, in the interest of making sure you read in the proper order, I've set the novel FREE on Amazon today and am also letting you download the short story for FREE here on my website.

I hope you enjoy them! If so, feel free to tell your friends or write a review. Every vote of confidence gives me another hour to write so I can keep these stories coming your way as quickly as possible. Thank you!