Wetknee Books News
Stay tuned to blog posts by our authors below.

Not into blogging? Follow us on Facebook.

I had planned to polish up some of my favorite stockpiled manuscripts to share with you, but a new story pushed its way to the front of the line instead. By the end of March, Shiftless will be available on Amazon, and while you wait, you can enjoy a prequel short story (with a solid ending, so if you want, you can stop right there).

Bloodling Wolf is my free gift for everyone who signs up for my email list using the second form on the sidebar. Here are what a couple of early readers had to say:


"Aimee Easterling's world building was very interesting, with a 'bloodling' being a type of werewolf I've not run across before. Bloodlings are rare shifters who are born in animal form and can't shift into human form until they become teenagers.... It's always interesting to see the world through the eyes of someone not exactly part of it in the same way we are, be it aliens, children, or bloodlings.... Kudos to Aimee Easterling for a job well done." --- M. Meara
I'm hooked! I love the main character and his 'milk brother' is awfully sweet too. Can't wait to read more!" --- S.

I plan to only use my email list to announce new books and giveaway periods, which means it'll be extremely low traffic (maybe one email per month). So you have nothing to lose by giving Bloodling Wolf a try. I hope you enjoy the story as much as I enjoyed writing it!

It's time for another round of favorite indie books! You can read about previous favorites here and here. I stuck to reviewing fiction this month since I was working hard on writing non-fiction of my own, so the books below are simply listed in order from most to least recommended. (Even the "least" ones were quite good, or they wouldn't be on this list.) Enjoy!

Many writers are obsessed with page and word counts. I suspect that some of this obsession is the writing equivalent of "Are we there yet?", but it's also tough to know what kind of story to tell until you figure out how many pages you have to tell it in. Plus, publishers reputedly want books that are very close to the average length in each genre, so the advice to make the story as long as it wants to be doesn't hold water if you're writing for publication. The internet abounds with recommended word counts for various genres, such as:


| | | | |
| --- | --- | --- | --- |
| | Low | High | Average |
| Middle readers | 25,000 | 40,000 | 35,000 |
| Young adult | 25,000 | 80,000 | |
| Romance | 40,000 | 100,000 | 85,000 |
| Mystery/thriller/crime | 55,000 | 100,000 | 90,000 |
| Horror | 80,000 | 100,000 | 90,000 |
| Western | 80,000 | 100,000 | |
| Chick lit | 80,000 | 110,000 | 100,000 |
| Literary fiction | 65,000 | 120,000 | 100,000 |
| Science fiction/fantasy | 80,000 | 120,000 | |

What I find fascinating is that the trend among indie authors on Amazon is to write books at or below the low end word counts in at least some genres. And readers lap these small books up. Yes, some readers complain in the review section that the book feels short, but best-sellers continue to clock in with low word counts. Here are some estimates for indie word counts on Amazon's bestseller lists:


| | | | |
| --- | --- | --- | --- |
| | Low | High | Average |
| Young adult | 21,000 | 156,000 | 80,000 |
| Paranormal romance | 14,000 | 125,000 | 66,000 |
| Paranormal fantasy | 9,000 | 128,000 | 70,000 |

Although indie young adult actually seems to be longer than mainstream young adult, it's interesting to see so many books on the paranormal bestseller lists that don't even really hit novella length. The two paranormal bestseller lists are so well-stocked with indie titles that I only inventoried the top 40 indie titles in each, but among paranormal fantasy books, 15% came in below 40,000 words (estimating 275 words per kindle page). It seems that as long as the price is 99 cents, just about any word count goes.


This got me wondering whether the page counts that publishers want are based on storytelling...or on printing and bookstore economics. Since most indie authors sell nearly all of their books in e-form, they have no incentive to pad a novel to make it look better on the shelf. Is it possible that, without the shackles of print to hold them back, the best stories are on the short side? Maybe the reason indie authors are pushing mainstream authors off the best-seller lists in certain categories is because their shorter works are more appealing to the masses...especially with the resulting lower price tag.

The photo here includes some of the books that I can't live without, which run the gamut in size, but tend toward short. I'd be curious to hear about your favorite books as well. How long are the ones you love the most? Do you find short books lacking in substance, or do they often capture a more simple, spare story that sticks with you for days to come? Are the best novels short?

There's a big debate at the moment among authors about whether they make more money by signing on with a mainstream publisher or by going the indie route. As part of that debate, some of the "traditional" authors are publishing their royalty statements online...and many readers are surprised by how little the authors made. I thought I'd jump on the bandwagon and share the results of my first royalty statement for The Weekend Homesteader, published by Skyhorse Publishing. (You can read also my thoughts before the statement came by following this link.)

For the period of November 2011 through the end of June 2012, my net sales were as follows. (I've factored out the returns that inevitably come from bookstores, so these are net figures.)


| | | | |
| --- | --- | --- | --- |
| Sales venue | Net # sold | Net income | Profit per copy sold |
| Amazon and other discount paper retailers | 7,559 | $3,359.01 | $0.44 |
| Bookstores selling at full price | 1,447 | $1,122.12 | $0.78 |
| Tractor Supply and sales outside bookstores | 892 | $287.07 | $0.32 |
| Ebooks | 991 | $1,592.83 | $1.61 |
| Total | 10,889 | $6,361.03 | |

(Just so you know, I don't get a check for 6k. First, the publisher deducts my advance ($1,500) and then they deduct the reserve for returns ($2,000 in this case, usually about 50% of print book sales), then they send me what's leftover. And all of that immediately went to fix my mom's teeth, so don't go asking for a loan on the $2,800 I actually got either --- it's all gone.)

Ebook revenue
The first thing I noticed when looking at my royalty statement is that the ebook sales were a net loss. I have an interesting set of data because I originally self-published The Weekend Homesteader in twelve short ebooks on Amazon, and when the publisher approached me, they allowed me to keep those books up there, although they reserved the right to publish their own merged ebook including all twelve sections. Before signing on with the publisher, I made $6,267.10 from Weekend Homesteader ebook sales on Amazon during the same eight-month period the previous year, and only $4,531.45 from my indie Weekend Homesteader ebooks after Skyhorse's ebook version became available, for a net loss to me of $142.82 after adding back in my royalties from that official ebook version.

This brings up one of the big arguments authors are having at the moment with mainstream publishers. Authors contend that publishers are getting an unshare portion of the pie from ebook revenue since the publishers don't have to pay printing costs but still take big cuts of the profit, and my data backs up that assertion. If I ever signed on with another publisher, my results show that I should refuse to part with my ebook rights, or should at least negotiate a royalty higher than 25%.

Overall earnings
Despite being less than pleased with ebook revenue from my traditionally published book, I was pleasantly surprised to discover that my royalty check was larger than expected. Traditional publishers contend that indie authors are losing a significant part of potential revenue since we can't really compete in the print market, despite print-on-demand books through createspace. And they're right --- I definitely wouldn't have reached all of those print customers without the publisher's help. However, when you compare what I made the year before on Weekend Homesteader self-published ebooks to what I made from my publisher, you'll see that the publisher only brought in an additional $93 for me --- hardly worth the weeks of effort on my part finding print-quality images and jumping through the other hoops necessary to produce a print book.

On the other hand I did learn a lot by watching the pros solicit reviews, send the manuscript out for copyediting, and make a cover, so I'm glad I embarked on the experiment. Still, my gut feeling is that if I now put a bit more time and money into those parts of future ebooks, they'll be more lucrative if self-published than if I went to seek out another book deal.

The bigger picture
While I'm on this topic, I thought I'd crunch some numbers from the 931 authors who have submitted their royalty data to authorearnings.com. On average, traditionally-published authors made $11,565 each year while self-published authors averaged $53,565 per year. These figures are quite a bit skewed by the best-selling authors in each category, though, so I thought it would be interesting for us little guys to see the averages of the lower 90% in each category: $17,868 for traditionally-published authors and $11,746 for self-published authors.

Of course, that data is based on the authors who felt like reporting their results, so perhaps a better perspective comes from this report (also by authorearnings.com) which sums up all 54,000 ebooks found on Amazon's best-seller lists. A program trolled all of the publicly available data on Amazon's website and determined that self-published authors bring in at least 35% of the author revenue from Amazon ebooks, with their big chunk of the pie explained by their higher royalty percentages (no cut to the publisher, of course). It's possible that many of the small and medium publishers are also indie authors in disguise, so our chunk of the pie might be even higher than it seems. On the other hand, this report only focuses on ebooks, where indie authors have quite an advantage, so it doesn't speak to the overall issue of whether you'll make more money with a traditional publisher or by striking out on your own.

The take-home message --- you might make a bit more from going with a traditional publisher than by self-publishing (or maybe not), but you'll probably have to jump through a lot of hoops to find that publisher, it will take much longer to get your money after writing your book, and you'll put in a lot more effort throughout the process that could be used to write and self-publish an extra book or two. I plan to learn from the experts, but keep my book rights in the foreseeable future. How about you?

"Movies are intricately made emotion machines," wrote Blake Snyder in Save the Cat. Although the book is meant to guide screenwriters toward producing works that will appeal to both the public and to movie executives, it also has some tips that carry over to the world of novel-writing, so it's unsurprising that many authors now sing the book's praises. The best stories --- either in book form or on the screen --- are the ones that take you on an emotional journey, and Snyder is an expert at guiding the audience down that emotional path.

One of the most interesting parts of Save the Cat is the way Snyder divides movies up into so-called genres...but ones that don't match the categories you're used to like romantic comedy, action adventure, and horror. Instead, Snyder uses Joseph Campbell's concept of archetypes to separate stories based on the main character's inner journey. I was intrigued to discover that even though Snyder lists ten genres, all of my favorite stories fall into only three categories: Golden Fleece (quests, road movies, and other stories of self discovery); Rites of Passage (coming of age stories and other life transitions); and Institutionalized (tales about the struggle between self-interest and loyalty to a group). Just reading over Blake's list of genres can help you figure out which archetypes speak to you as well.

The most touted section of Save the Cat involves Snyder's beat sheet, the idea being that you make your story fit a set sequence with mirrored opening and ending scenes, a high point in the middle, and an "dark night of the soul" 75% of the day through. He recommends using notecards to set up forty scenes, arranging them into four quarters to help you visually imagine the story. Although I was a bit dubious, I had a story niggling at the back of my mind as I read Save the Cat, so I figured, why not give it a try?

My conclusion was that the beat-sheet method of story development has pros and cons for a novelist. First of all, even a short novel is much more in-depth (and longer) than the average screenplay, so after I started writing, forty scenes left me with a lot of gaps to fill in. I also got stuck about two-thirds of the way through the book since my the characters had developed enough by that point that they informed me the ending I'd charted out was just plain wrong, which sent me back to the drawing board. Those negatives aside, though, starting with a beat sheet did help me counteract my urge to infodump at the beginning (Snyder just doesn't allot time for that in his beat sheet) and it helped me figure out who my character was and what she wanted to do at the beginning much more efficiently than my usual method of just writing until the protagonist develops her voice.

I'd be curious to hear from others who have used Save the Cat to write a novel instead of a screenplay. Which parts of the book do you feel carried over well and badly? In the meantime, stay tuned for the results of my experiment, which will hopefully be ready for you to read in the next six weeks or so. I'll also be sharing a free short story teaser soon.

Naturally Bug-Free is now live on Amazon! This ebook is the second installment in my popular Permaculture Gardener series, which shows you how to grow a vegetable garden in harmony with the natural world.

The first book in the series, Homegrown Humus, has already demystified cover crops for 2,500 people. Naturally Bug-Free is a complementary look at how to keep pest invertebrates at a dull roar in your garden without spraying anything. With a price tag of only $1.99, the ebook will pay for itself with the first head of organic broccoli you grow in your garden this spring.

Thanks for reading!

Those of you enrolled in Amazon's KDP select program probably noticed a new feature popping up a few months ago. Now you can choose whether to use your five promotional days per three-month period with a freebie or with kindle countdown deals. The idea with the
latter is that you discount the price of your book (which has to be between $2.99 and $24.99 pre-discount) to boost interest. As you can see in the screenshot to the left, during the sale, there's a little note beside the price of your book telling potential customers that they only have a limited time to take advantage of the discount.

A possible selling point for countdown deals is that you get to stay at the 70% royalty rate even during the sale period. This works much better for fiction (with no photos) than for non-fiction (especially mine, which tends to be very heavy in photos). In the former case, if your book was originally $2.99 and you discounted it to $0.99, you'd get 70 cents per download during the sale period. Unfortunately, in my case, Amazon still takes out a significant chunk from that 70% royalty due to file size, so I was only getting 18 cents per download, far less than I would have gotten if the book had simply been priced at 99 cents.


Many people who write fiction report that a well-publicized countdown-deal period can bring in the same amount (or more) money compared to a period when the book wasn't discounted. But as you can see from the screenshot above, I lost about $40 from downloads of Trailersteading due to the sale period. On the other hand, as with any promotion like this, the main point isn't so much immediate income as to boost your whole list of books and the future sales of the promoted book. To that end, I crunched some numbers to see:

...whether increasing the price of Trailersteading from 99 cents to $2.99 (the prerequisite for enrolling in the countdown-deal program) decreased revenue

...whether the countdown deal impacted overall sales
To answer the first question, I came up with the number of copies of Trailersteading I probably would have sold and had borrowed in January without the countdown deal, then compared that figure to the number of ebooks I sold in November when Trailersteading was priced at 99 cents. Now, keep in mind that Trailersteading is an established ebook with lots of good reviews, and I probably underpriced it to begin with, but the results were startling --- I did see a 29% decline in total number of sales, but also saw a 187% increase in revenue after increasing the price. Clearly, 99 cent ebooks aren't always the way to make the most money on Amazon.

As a caveat before I move on, I should consider the other two ebooks whose price I raised to try out the countdown deals --- Microbusiness Independence and Permaculture Chicken: Incubation Handbook. With the Incubation Handbook, I saw a 49% decline in number of downloads, but a 139% increase in profit. With Microbusiness Independence, I actually saw a 38% increase in number of sales after I increased the price and a 715% increase in profit. (I'm assuming the increase in sales after increasing the price of Microbusiness Independence is due to the launch of a new book in the series, which always boosts sales of other books in the series.)

Okay, so on to question two --- did the countdown deal itself help in any way? I already showed that I lost money on sales of Trailersteading during the deal itself, but the countdown did move Trailersteading way up the rankings. All of the email lists I submitted my sale to declined to share Trailersteading with their readers, but I did email my fans, and the book moved upwards in the rankings throughout the week. When Trailersteading first went on sale, it was ranked about 10,000 in Amazon's kindle store, and by the end, it was close to 3,000. By the last day, Trailersteading was showing up number 3 on the ranked listing on Amazon's countdown deal page, which helped boost exposure even more.

After a free period, books that moved way up the rankings drop back down to close to their previous paid ranking, but I don't see any reason Trailersteading's ranking should decline right away after the countdown deal ends. That may be where I make the most money on the countdown promotion --- while Trailersteading is still ranking as #2 in Sustainable Living but is back up at its list price of $2.99.

It's harder to figure out how much Trailersteading's high ranking is pulling up my other books, but I'm sure there's some effect there. If I remember, I'll post a followup in a month or so letting you know how the overall sales for January (with the excellent countdown sale at the end) compare to November (in which I only did free periods).

So, the bottom line is that I'm cautiously optimistic about the benefit of Amazon's Countdown Deal feature. However, I have to admit that it didn't do much for Microbusiness Independence, which only barely rose in the rankings during its countdown period and then plummeted to below sale levels. I suspect the countdown-deal feature is only effective if you use it on a very strong ebook, or if you're able to get into one of the ebook newsletters (but that's nearly equally true with free promotion periods).

I hope this excessively long post gave you some grist for your mill as you consider whether to try out Amazon's countdown deals. Feel free to mention your own experiences in the comments section!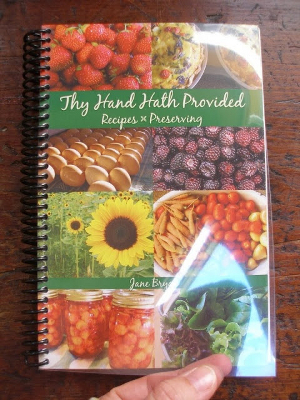 It's time for another round of favorite indie books! Like last month, I'm going to break this up into three categories. And to repeat what I said last month, I downloaded many of these books for free. Below, I'll note which ones are seemingly permafree, but please do check the price before you click to buy.

In addition, if you have Amazon Prime, most of the books below are enrolled in the lending library (along with all of my ebooks), so you can borrow one per month without paying. This is actually an awesome way to support indie authors since we get a whopping $2 per borrow most months and you pay nothing. Happy reading!

Non-fiction:

Thy Hand Hath Provided: Recipes and Preserving by Jane Bryan --- I enjoyed a gifted review copy of this homestead-style cookbook. Click the link for my full review, with recipe.

Tree Morphogenesis by David Lloyd-Jones --- You can see my full review by following the link. This is an interesting book for anyone who spends time working with trees in any capacity.

Fiction with redeeming value:


Fiction purely for fun:

Stay tuned for more selections at the end of February!



Lollipops, Garlic, and Basement Salamanders is now up on Amazon for 99 cents! I hope you enjoy this short story collection as much as I do.

If you missed my earlier post, you can read Aimee Easterling's introduction here. We're working together on sprucing up her first novel at the moment, so you should expect more fantastical fairy tales coming down the pike in February.

Thanks for reading!


I recommend that ebook authors take a look at this study of optimal ebook pricing, from which the chart above is excerpted. When people ask me the best price for an ebook, I'd previously been sending them to a previous study, which suggests the lower you price your books, the more money you make. The old hypothesis appears to still be true in Great Britain, but I think the surge of subpar 99-cent ebooks in the U.S. has turned many readers off the lowest priced offerings. Meanwhile, some indie authors have been producing high-quality ebooks that are just as good or better than anything published by a mainstream publisher, and readers are realizing those works are worth a higher price.


As a result of these changes, you now seem to make the most profit by pricing your ebook between $9 and $10 if you live in the United States. Since Amazon allows you to choose a 70% royalty for ebooks priced between $2.99 and $9.99 and only a 35% royalty above that price, the sweet spot is probably actually between $8.99 and $9.99.

Despite this study, I think there's a real danger in pricing your ebook too high, especially if you're a new author without an established fan-base. 99 cent ebooks do get snapped up much more quickly than more expensive offerings, which moves them up the rankings, and I think any author's first goal when selling on Amazon should be to have your book show up in the top 100 in at least one category so that strangers will find your writings. In addition, you get a lot of benefit from offering multiple books in a series, and with non-fiction, that's easy to achieve by writing shorter books that you price lower. I figure 10,000 words per dollar is a pretty good price point for making readers feel like they really got their money's worth, although I do price higher than that if a book is very picture heavy.

So where will I price my upcoming ebook, the cover of which is shown above? At the moment, Bug Theory for Gardeners is slated to launch at a price between 99 cents and $1.99, depending on how big the file is with pictures and text. (You can no longer sell ebooks with a file size greater than 3 MB for 99 cents.) However, I may raise the price of the ebook later once it's well established in the rankings, since that strategy has increased revenue for Trailersteading recently.

What are your experiences with pricing ebooks?