Permaculture Gardener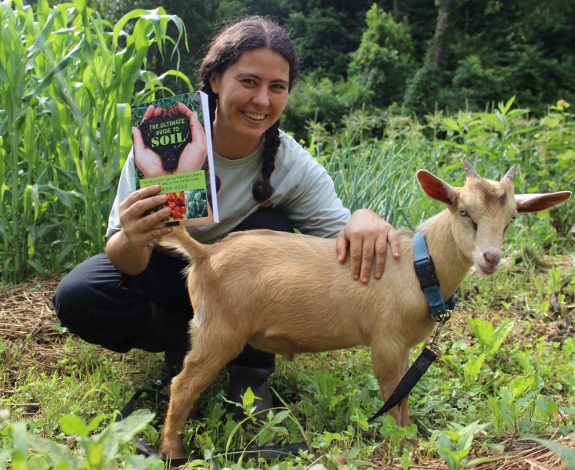 If you're new to no-till gardening, we recommend starting with Weekend Homesteader. Then expand your horizons with:

The Ultimate Guide to Soil


Grow twice the fruits and vegetables in half the space on the farm, in the backyard, or in your window!
Paperback available:
And at your local library and bookstore!
Ebook available:
Have you noticed the extraordinary flavors and yields emanating from even a small garden when the soil is just right? If you've ever been envious of your neighbor's dirt or just curious about homesteading, then

The Ultimate Guide to Soil

is perfect for you.
The book begins with a personality test for your soil, then uses that information to plan a course of action for revitalizing poor soil and turning good dirt into great earth. Next, you'll learn to start and maintain a no-till garden, to balance nutrients with remineralization, and to boost organic matter with easy cover crops.
Don't forget the encyclopedic overview of organic soil amendments at the end. Old standbys like manures and mulches are explained in depth along with less common additions such as bokashi compost and castings from worms and black soldier fly larvae. Learn when hugelkultur, biochar, paper, and cardboard do and don't match your garden needs, then read about when and how to safely use urine and humanure around edible plantings.
With an emphasis on simple techniques suitable for the backyard gardener,

The Ultimate Guide to Soil

gives you the real dirt on good soil. Maybe next year your neighbor will be envious of you!
No more harmful sprays in the garden!
Paperback available:
And at your local library and bookstore!
Ebook available:
Do you want to grow beautiful, delicious fruits and vegetables without poisoning your yard with chemicals?

The Naturally Bug-Free Garden

shows you how to bring your garden ecosystem into balance so that beneficial insects and larger animals do the work of pest control for you.

In addition to ecosystem balancing, the book includes hands-on pest-control techniques such as succession planting, choosing resistant plant varieties, and shielding plants with row covers. Paying attention to the nutritional needs of your vegetables can also deter pests, and the remaining insects are simple to hand-pick.

Hess's newest book sums up seven years of experience growing all of her family's vegetables. With the help of this photo-rich text, your garden can also be naturally bug-free.



"This is the place to start if you are looking for guidance on chemical free gardening." --- Ashley Fishbein





"Great guide for a permaculture garden.... I wish this was available when I first started gardening so I wouldn't have wasted so much time money and energy on pest control that was not good for my garden or my health." --- Brian





"Anna makes great suggestions and practical guidance to make your yard and garden a place where these types of beneficial insects and creatures can thrive year round and attractive to those that migrate naturally." --- David Hale



Homegrown humus is easy with cover crops!
Paperback available:
And at your local library and bookstore!
Ebook available: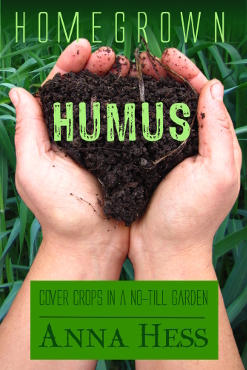 Cover crops are a simple, cheap way to boost your soil's organic matter, to fight weeds, to prevent erosion, to attract pollinators, and to keep the ecosystem in balance. Unfortunately, most information on growing cover crops is written for people who plow their soil every year and are willing to spray herbicides. You can get all of the same benefits in a no-till garden, though, if you're clever.
Homegrown Humus

details five no-till winners in depth --- buckwheat, sweet potatoes, oilseed radishes, rye, and oats. Profiles of other species suggest gardening conditions when you might want to try out sunflowers, annual ryegrass, barley, Austrian winter peas, crimson clover, cowpeas, or sunn hemp as well.
Meanwhile, the book delves into finding cover-crop seeds, planting cover crops in a no-till garden, and easily killing cover crops without tilling or herbicide use. Understanding the C:N ratio of cover crops helps determine how long to wait between killing cover crops and planting vegetables, as well as how to maximize the amount of humus you're adding to your soil.
Cover crops are an advanced gardening technique bound to increase your vegetable yields, but are simple enough for beginners. Give your garden a treat --- grow some buckwheat!
This second edition is updated with three new chapters and contains a total of 54 photos.
"The book is accessible for the layman (or woman), and with almost 30 years of gardening experience and 4 years of professional experience working on development projects in the third world, I can say this is the best book written on the subject I have read so far." --- M.Padro
"This is a very good primer on getting started growing your own mulch year round in the garden. Much of the US once had as much as nine feet of topsoil. Many areas now have less than an inch or two. Following the author's simple suggestions will have your soil organic content increasing over time." --- Roy W. Houston