Permaculture Chicken: Pasture Basics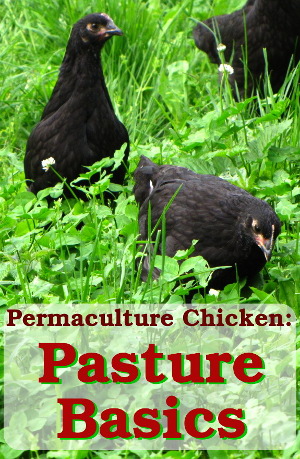 Several of you have emailed to ask about the next installment in the Permaculture Chicken series. The trouble is that pasturing is a big topic and I got bogged down in the sheer size of the undertaking. At the same time, Amazon changed their policies so I could only cram about 60 pictures into an ebook if I wanted to keep the price down to 99 cents.

Rather than overwhelming myself with writing a gargantuan tome all at once (and having to boost the price), I decided to break pasturing up into two or three segments. The first installment, as the name suggests, is the basics --- why grazing chickens is different from grazing ruminants, how pasture plants grow in rotational pastures, and how to keep traditional pastures lush despite chicken scratching.

Next on my writing agenda is a sum-up of our fridge root cellar experiments, but after that I should be back to work on the next Permaculture Chicken installment --- forest pastures, chicken moats, and more. Thanks for reading!